Maybe This Bachelor Shouldn't Be in 'Paradise'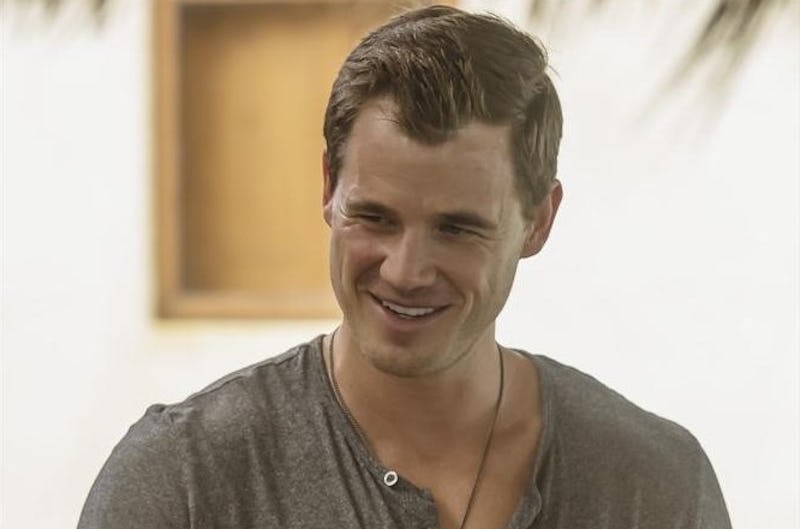 This is what ABC considers "paradise": 25 former reality TV people (stars might be a stretch), brought together to flirt, fight, perform ambiguous zoom-lense-necessary acts in the ocean, and probably, like, a few trust falls and obstacle courses. Among them on ABC's inaugural Bachelor in Paradise season is Ben Scott, from Desiree Hartsock's season.
Bachelor in Paradise is a little less "drinking on a yacht off the coast of Saint-Tropez" and more "all you can eat buffet in Sandals, Jamaica." But still, if it meant the chance to date Marquel — he of deep thoughts and even deeper V-necks — I might join those lost souls, Chris Harrison, and 100 of his closest production friends on an island for a few weeks too. If you're single and looking for love, why not? That's why it's particularly curious then, that Ben Scott will be taking part in Bachelor in Paradise , as he seems to be the opposite of a bachelor.
You all remember Ben from Des' season, don't you? He was the guy with the punchable face who got out of the limo with his 4-year-old son in a matching suit, ensuring he would stick around until at least Week 5. He made all of the other bros hate him by being one or two levels above them on the douche-scale, resulting in fellow contestant, Michael G. spending the entirety of their dreaded two-on-one date trying to out Ben as an absentee father and, if my memory serves me correctly, for not attending Easter church services with the rest of the Christian bros on the show. But all of that was just speculative child's play compared to the Patrick Bateman ramblings Ben started spewing once Des released him back into the general public:
You guys better be really [bleep] careful who makes it in, you're not going to have a Bachelor. You guys really missed out. The single Dad from Texas. "Hi Hollywood!" (Waves to camera, laughs like a Disney villain.) I'mma have fun my last night in Munich. Where are we getting drunk? Let's have some fun tonight. How long do I have to wait' til I can be seen in public with somebody? Because I don't wanna wait. (Laughs maniacally, twists metaphorical handlebar mustache)
OK, the action brackets were added by me, but are also totally accurate. So, after that display of respect for the process and clearly involving himself in the Bachelor franchise for The Right Reasons, exactly what might we expect from Ben on Bachelor in Paradise using a very educated ranking system, based solely on facts:
Social Media Ranking: Total Skeeze Bucket
Actual Twitter Description: "Bachelorette Season 9, Father, Christian, Life is short... Live it!"
Truthful Twitter Description: "Bachelorette Season 9, Father of cute kid, Possessor of unfortunate personality, Wearer of man-necklaces. Life is short...manipulate and deceive everyone."
Ben's social media presence is mostly gross because his Instagram very clearly shows that he was dating a model named Lindsay Higgins while filming Paradise. It appears that they met in Vegas and started dating right before he left for filming, but he went anyway to a show that's tagline might as well be, "Sex. We're all here for sex. If someone happens to fall in love here, that is a happy coincidence."
Crazy-Eyes Ranking: Very Crazy Eyes
Do I need to copy and paste the limo speech again? Dude is a loose cannon. He also likes to tag people in pictures from his season of The Bachelorette where he was notoriously hated by everyone, for example, this one, where he refers back to that two-on-one date and tags Michael G. and Des, who surely are not close personal pals.
At least Ben's particular brand of crazy is just shameless fame-seeking, as opposed to, "I WILL KNOCK YOU OUT IF YOU TRY TO GET BETWEEN ME AND THIS GIRL I MET TWO DAYS AGO."
Bachelor-verse Power Ranking: You can sit with us, but don't talk to us
Ben holds onto his Bachelor-contestant status like a cat in a inspirational 3rd grade classroom poster, but he doesn't really get invited to the cool bro trips to Vegas (a real thing that really happens). He mostly hangs out with Zac Waddel from his season, who was a pretty earnest meathead, so maybe behind closed doors, where he can't seek any fame, Ben isn't so bad. Just kidding, he's probably worse.
What to Expect
Expect everyone to dislike Ben as much on Bachelor in Paradise as they did on The Bachelorette, but as opposed to waiting to tattle on him for fear of taking up the 10 minutes of alone time they could get with the girlfriends those bros were all sharing, these bros can talk whatever mad trash about this guy that they want to. Ben has a white-van-of-shame exit written all over him.
Images: ABC; lindsaybrookehiggins/Instagram; benscott07/Instagram (3)