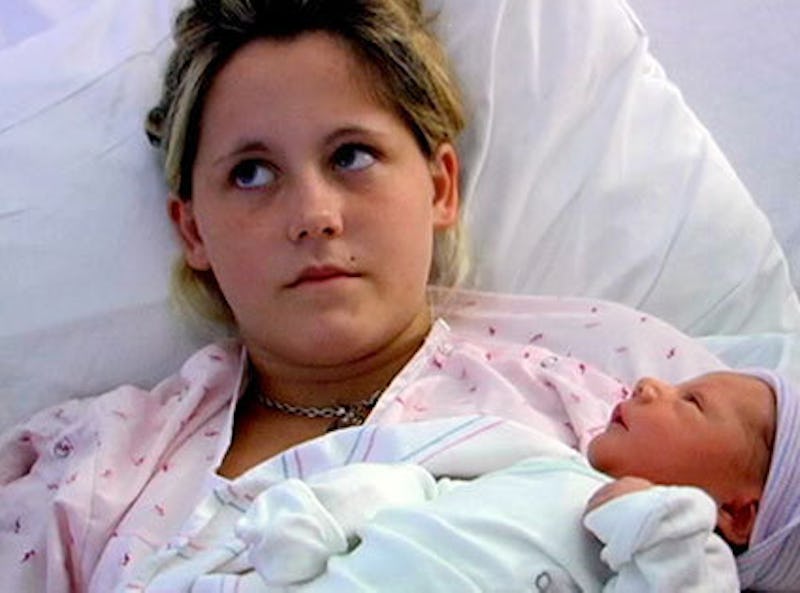 After Jenelle Evans gave birth to her second son, Kaiser, in June, it appeared that the former Teen Mom was adamant to get the whole motherhood thing right this time. For her, it's not just about saying she'll be better but maintaining that promise. After all, she is older, wiser, and currently sober — all things that bode well for her quest. And she's making sure that the world knows her first month into being a mother of two is going swell. Evans, who has always been fairly prominent in the Internet world, is doing so through the wondrous world of social media. Specifically, Evans shared photos of her adorable new baby on Instagram.
Kaiser, aka "Kai," is just about the cutest and chubbiest baby this side of the Western Hemisphere. Also, I'll be honest, while I've been judgmental of Evans and her previous treatment of her mother and her son, Jace, in addition to the slew of arrests and drug relapses, there's one fact no one can take away from her — she makes some adorable kids. Okay, so that's not the important part. What's really encouraging is to see Evans' continuing inclusion of Jace in her life. The pictures show that the group of four is looking a lot more like a family rather than the focus being on Evans and her boyfriend's troubles like it has in the past.
All in all, good on you, Jenelle. It's always nice to see someone who follows through on what they say they're going to do. And, it's especially great to see a Teen Mom do well after watching her constant documented struggles. It kind of feels like we know her a little bit, and it's nice to be able to root for her rather than against her. The reality star is still quite young — she has her whole life ahead of her and a whole lot more precious baby pictures to upload to Instagram. Seriously, upload some more pics.
Check out the family photos for yourself below:
Image: MTV