The "Happy" Parody You Must See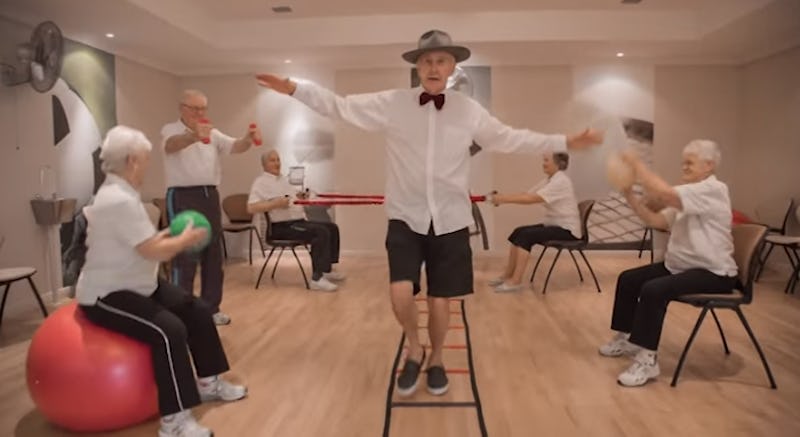 The 80-something-year-old residents of the Diana Isaac Retirement Village in Christchurch, New Zealand, are having way more fun than you. These sprightly elderly folk teamed up with the retirement village's staff to produce an energetic video tribute to Pharrell's "Happy" — complete with a hat and bow-tie-wearing lead man. Evidently, aging bodies and dodgy hips aren't barriers to making a seriously rad music video, because these folks have some sweet moves.Entitled "80-odd Years of Happy," the video shows the residents boxing, swimming, dancing, singing, wearing flat caps, and just generally proving that age is only a number. But the video isn't just joyful — they've paid some serious attention to detail. Following the original, the lead man skips down stairs, dances before a choir, knocks on hotel room doors, and even nails Pharrell's dress sense. Ninety seconds in, a young boy offers an uncanny parody of the quick-footed, bespectacled little boy in Pharrell's video. In spite of all these highlights, my favorite moment arrives one minute and 50 seconds into the video, with a tongue-in-cheek reference to Pharrell's dance at a bowling alley.
According to The Press of New Zealand, the star of the video is the 79-year-old retired engineer Alister Leckie — or Al Pharrell Williams, as he's now jokingly called. He told them that he didn't hesitate when asked to be the lead man, adding "Heavens above — you get on and have as much fun as you can."
Other retirement homes should take a spirited leaf out of Diana Isaac Retirement Village's book — if all retirement homes were this exciting, elderly folk would probably want to live in one and families wouldn't think twice before sending their loves ones there.
WOW. If I'm anywhere near that cool at age 80, I'll be dancing for joy, too.
Images: 80-odd years of happy/Youtube; IamOTHER/Youtube