Did 'Parks and Rec' Foreshadow Its Finale?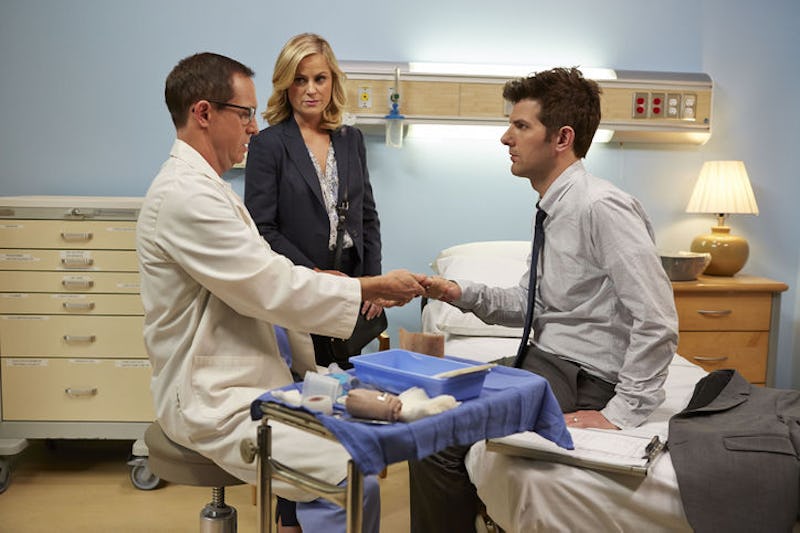 For a little comedy about Pawnee, Parks & Rec sure brought the drama last season. In addition to that game-changing shocker of a finale, there was the equally huge reveal one episode earlier that Leslie was pregnant with triplets. The announcement came as a massive surprise to both the show's characters and its fans; sure, Leslie and Ben having a baby seemed inevitable, but three of them?! At once?! No one saw that coming — except those who were paying close attention. As noted by Tumblr user OnlySlightly, in a season 2 episode of Parks & Rec, Leslie's future pregnancy was foreshadowed in a major, albeit creepy, way.
In a midseason episode called "The Set Up," Ann arranged a blind date for Leslie and Chris (Will Arnett), an MRI technician she knew from work. The date, as you may recall, went disastrously, with the insanely creepy Chris criticizing Leslie's college, her choice of job, and her lack of past MRIs – the latter of which he planned on fixing that night. They went to the hospital, where Chris preceded to perform an MRI on Leslie and made plenty of uncomfortable comments — including the statement that became of her "great oven," Leslie could have "triplets right off the bat."
At the time, this was only a throwaway comment, just one more unsettling sentence coming from Chris' mouth. It'd still be four years before Leslie got pregnant with her triplets, and back then, having a baby, let alone several of them, was the last thing on her mind. That said, it is possible that the Parks & Rec writers were already thinking way down the road when they wrote that line for Will Arnett. Could they have been planning Leslie's season 6 pregnancy all the way back in Season 2?
It's pretty unlikely, considering that at the time that episode aired, Leslie's future husband, Ben, wasn't even in the picture. He and Chris wouldn't join the show for another 10 episodes, and it's doubtful that the writers were confident enough in the upcoming relationship between Leslie and Ben to make outlines for their future four years later. Still, you never know; Parks & Rec has brought back early jokes like Ginuwine and 'Lil Sebastian several seasons after their first mentions, so a bit of foreshadowing back in 2010 for a 2014 episode isn't totally out of the question.
Whatever the reason, whether by accident or on purpose, it is pretty funny to see the season 2 episode now and realize its implications. And it makes you wonder — what else could you catch if you revisited the show's old episodes? A hint of an April and Andy romance? A side comment from Ann about moving away? Jerry's mutterings about how no one ever gets his name right? It might just be worth rewatching the entire series, which, let's be real, is what we were all going to be doing anyway until new Parks & Rec episodes come back on the air.
Check out the season 2 foreshadowing in all its cringeworthy glory:
Images: NBC (2); Tumblr (4)