The Cutest Performance Of All Time?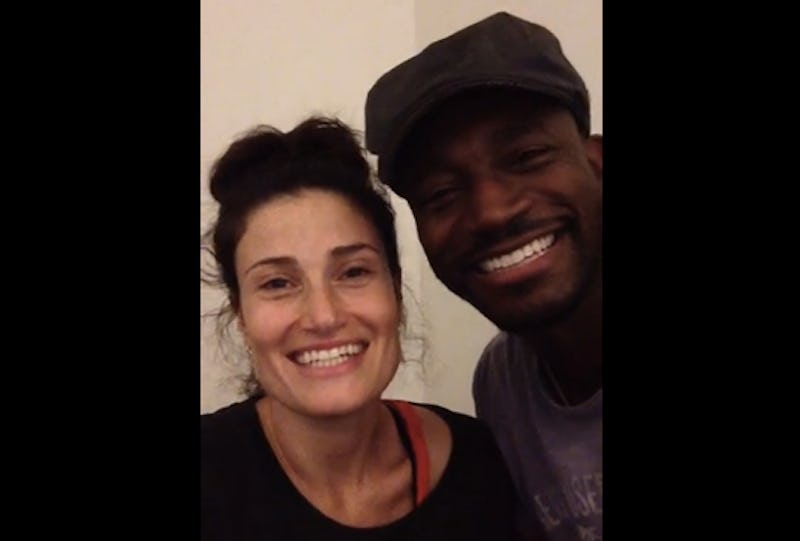 Well, this is damn cute. Broadway mega-stars Idina Menzel and Taye Diggs sang Wicked's "I'm Not that Girl" in an airport lounge yesterday. Apparently, they recorded the tune to say thanks to a woman named Angie, who evidently supported Samsung's Hope for Children campaign, as well as Menzel and Diggs' personal charity, A BroaderWay, which helps to send underprivileged girls to arts camp. Diggs provides the beat-box and Menzel does what she does best, and sings like a goddamn angel.
Beyond their impressive musicality, it's a sweet little look into Diggs and Menzel's relationship. The couple, who met while performing Rent and married in 2003, look like the most fun people ever, slash the most annoyingly perfect people ever. You don't know whether or not you want to be them, or slap them.
Eventually, at the end of the video, you'll decide you just want to be wrapped up in everything Diggs/Menzel when Menzel, who performed this song every night for two years during Wicked's 2003 to 2005 Broadway run, forgets the words. Then, when Diggs makes a fart joke, it's all you can do not to kiss your screen.
Menzel's voice can be heard in the upcoming animated flick Frozen , and now that Private Practice has wrapped, we assume you can find Diggs making more amazing fart jokes at home with their young son.