Ouch, Andi. That Really Hurt.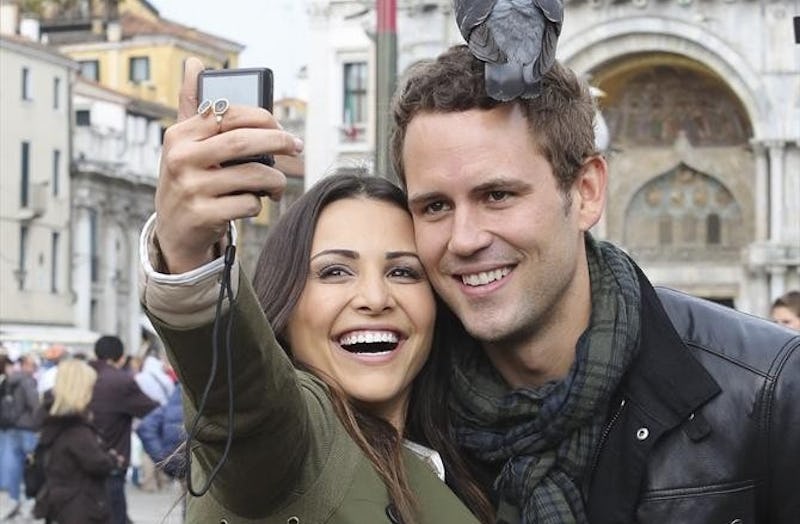 If you're like me and are a member of Bachelor Nation, you no doubt gasped during The Bachelorette finale when Nick was sitting there talking about rings, got up to answer a knock at the door presumably from the jeweler, and found Andi on the other side. And not only that, she was wearing the dress she was wearing in the preview that showed her crying! Guys, it was too much to handle. What was going to happen? What was this big twist? The live studio audience and I were on the edge of our seats! (Okay, fine, I was snugly situated on my couch, so for me this was purely metaphorical.)
After Chris Harrison made us listen to Clare Crawley's opinion on the pending matter at hand (it amounted to: sucks for him), we found out that the big twist was exactly what it seemed. Andi came into Nick's hotel room saying, "So... I want to chat" (not a good sign), and told Nick that she didn't feel right about him and wanted to let him know before the Rose Ceremony that he wasn't the one for her. To make matters worse (for Nick, that is), she used his own words about his past engagement to explain the situation. "The last time you got engaged, you woke up that morning and you didn't feel that something was right," she said. "I woke up this morning and didn't feel that something was right." Ouch, Andi! It buuuurns!
Nick was, of course, devastated. Anyone who has watched this season knows that Andi really put her feelings for Nick out there, and he was extremely open with Andi, telling her he loved her all the time and saying that he knew wanted to marry her. It was never clear that Andi would choose Nick over Josh, it just seemed that if she did go with Josh it was because she was making the safe choice — we all know how many times she said, "he's totally my type" — not because she didn't have a strong connection and real feelings for Nick. So to hear her say that she didn't see it working was honestly pretty shocking.
It was clear Nick felt extremely surprised. He told Andi, "I feel like you took it too far" and explained that when they were in the ocean on their final date, "I told you I love you and you said, 'I wish I could say things back.'" It definitely seemed that Andi was struggling to hold back saying "I love you" to both guys — especially Nick, I would say — so he has a point about her leading him on. Then again, this is The Bachelorette. The show where you fall in passionate lust with multiple people until you get to the end and go, "Oh shit! I actually have to try to be with one of them in the real world. Uh... lemme kick this guy off."
So, with Nick's heart broken, he rode off crying in the backseat of a car like so many men before him. And Andi cried in the rain because somehow ABC manged to make that happen.
This was rough, y'all. Here, have this pic of Nick in a suit accompanied by a hopeful message to soothe your pain:
Images: ABC