There Is Something Really Wrong Here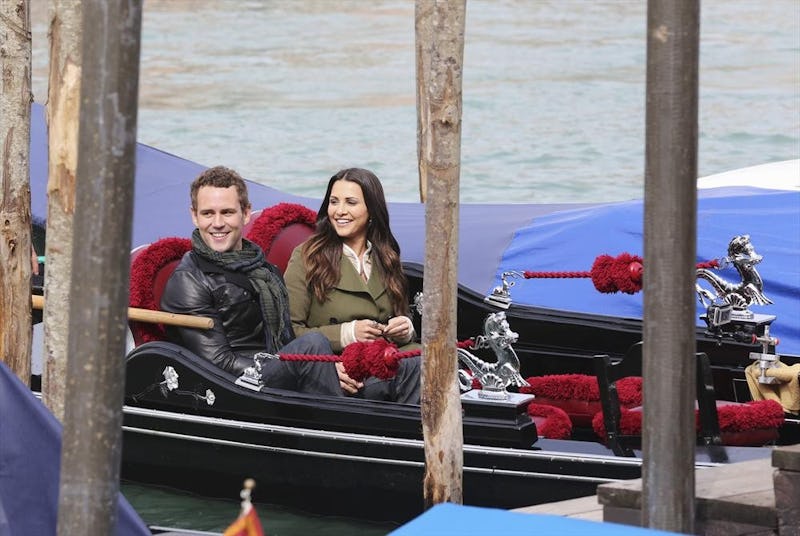 There is something seriously rotten in the Dominican Republic. At least there was when The Bachelorette was there filming Andi's final rose ceremony. In what might be the most painful Bachelorette breakup ever, Andi Dorfman let awkward sweetheart Nick Viall go less than 24 hours after giving him enough confidence to think he was the one. It was nothing short of soul shattering — and keep in mind that I'm the heartless person who usually cackles her way through every Final Rose ceremony ever.
Andi and Nick shared their final date ever off-roading and picnicking before Andi showed up at Nick's door just as he was expecting Neil Lane with a suitcase of engagement rings. We all knew something was wrong, but Chris Harrison decided to waste an entire segment grilling Clare Crawley and Chris "I'm not the new Bachelor *wink, wink*" Soules about what would happen. Then Andi did it: She dropped Nick like a dusty rock.
After spending the prior evening helping to quell his fears that he so openly expressed, Andi dashed Nick's dreams and told him that she feels something is wrong between them and that she would be thinking too much if she was with him (I'm sorry, didn't think that was a bad thing). He rolled away (in the rain, because nature has a wicked sense of humor) calling himself a chump and hating life and then we watched Josh get down on one knee as Andi declared that she's known she loved Josh since the day she met him.
And with that, I had to recall Nick's very important question: "Then why did you behave that way with me after I told you I loved you?" (Pardon me, I've never had feelings this many feelings about The Bachelorette in my entire life.) And he's right. If Andi really did know that she was in love with Josh that soon, why keep him around? Why keep up the rouse? Why keep kissing him so passionately and indulging him? Well, because that's how this show works. And as Eric Hill once told Andi, she's constantly acting in the name of the series rather than in the name of acting like a caring person. But is that her fault? Not entirely. It's the fault of the format and this insane show.
If the show wasn't built to make the woman at its center whittle down a batch of dudes, totally unlike any real life situation, then Andi could have just spent 10 episodes waltzing around the world with Josh, totally boring all of us and breaking zero hearts. Granted, the televisual product would have been completely boring, but we also wouldn't have this completely heartbroken human — rendered emotionally stuck by a ridiculous game show. And when you think about that, it's hard to see this show as a sparkly "journey" to find love and not a twisty torture chamber with a vice around each contestant's heart, ready to clamp down as soon as the picker is done with his or her candidates. To put it simply: The Bachelor and Bachelorette are kind of evil.
Sure, they give us something to create viewing parties around and an excuse to drink wine and eat cheese every Monday night, but when you see a person get so crushed by this nonsense process that his mother is in tears over it, it's a little harder to keep merrily sipping on that pinot noir.
Image: ABC