Where Have the Teen Soaps Gone?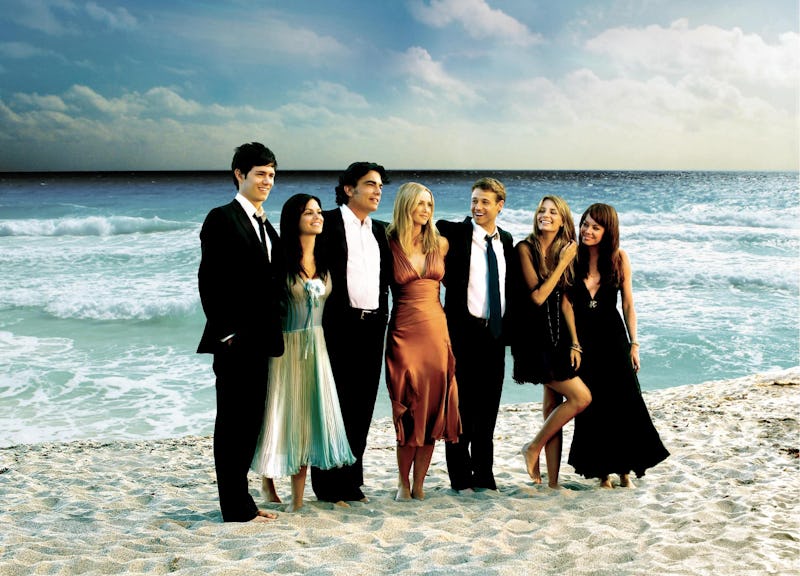 It's been ten years since the premiere of The O.C., the amazing Fox drama that gave us a glimpse at the lives of the residents of Newport Beach, California, and this is mind-blowing for any fan of The O.C., who probably remembers hearing "Welcome to the O.C., bitch!" spew from Luke's lips as though it were just yesterday.
While The O.C. didn't start the teen soap trend, its premiere in 2003 did set a bar for the formula. Created by Josh Schwartz — who would become the youngest show-runner ever — The O.C. wasn't campy, but pure, juicy, soapy entertainment. The characters didn't exactly feel like realistic portrayals of teens, but that was sort of the point. Fans loved living in this fantasy world, where every house had an ocean view and every teenager was blemish free. It was pure escapist drama with just the right amount of romance and heartbreak, dark drama and wit, gorgeous beach visuals and a killer soundtrack, to keep fans happy.
But while The O.C. ended after five seasons — partly because of Marissa Cooper's departure, and a plethora of other missteps that indicate that a show needs to end — it remained a very large part of our TV culture. More and more shows wanted to be the next O.C, a teen soap that gave us both drama and glamour wrapped in one. After the series wrapped production in 2007, Josh Schwartz went to work on Gossip Girl, which had all of the DNA of The O.C., just set in a different high-status world — the Upper East Side.
The O.C. was more than just a fun show, though — it was a cultural phenomenon. There would be no Dan Humphrey without Seth Cohen, no Serena van der Woodsen without Marissa Cooper. It's likely the creators of the reboot of 90210 might admit that it borrowed more material from The O.C. than its original predecessor (it's full circle — The O.C. was originally pitched as "Beverly Hills, 90210 on the beach"). Laguna Beach considered itself a reality version of The O.C., stating that the show was representing "The Real Orange County."
But let's flash-forward to today's television lineup. Where have our teen soaps gone? After a steady decline in ratings, The O.C. team's brainchild Gossip Girl ended in October of 2012, with many people claiming that it had become culturally irrelevant long before that. One Tree Hill — a show about small-town teens that started in 2003 — ended in 2012 after an incredible nine seasons. Even The Carrie Diaries, a new teen drama that acted as a prequel to the HBO series Sex and the City, struggled to find an audience on The CW.
But just because teen soaps don't have a footing in today's television world doesn't mean that shows geared toward teens are dying off. In fact, it's quite the opposite. It's just, instead of shows about rich kids behaving badly, there are shows about vampires attempting not to eat their girlfriends, or superheroes hiding their true identity, or even "beasts" protecting their super hot girlfriends (The CW's Vampire Diaries, Arrow, and Beauty and the Beast, respectively). Even ABC Family's Twisted and Pretty Little Liars have a different precedent — they're teen crime shows, not teen soaps.
We say that we want a show like The O.C. to return to the air, but really, do we? Collectively, television executives would think not. Why? Perhaps it's a shift in our culture. The recession has been blamed for killing Gossip Girl, a show that worshipped excess and was already pretty unbelievable. Perhaps the same could be said for 90210 — a.k.a Gossip Girl in Los Angeles — or even One Tree Hill, which had its characters living out their ultimate fantasy dream jobs (Brooke is a famous fashion designer! Lucas wrote a best seller! Peyton has her own record label!), even if money wasn't discussed outright in the same vein as Gossip Girl.
Yet, perhaps it's less of an economic issue and more of a "running-out-of-story-lines" one. Soaps need stories, and they need a lot of them. Unlike a show like The Vampire Diaries, which can introduce a new life-or-death situation in every episode, soaps need the storytelling to be both more dramatic and less life-or-death. A major soap story would be that Blair kissed Chuck when she was supposed to marry the Prince ... and on a high-concept show like The Vampire Diaries, it would be that some evil werewolf-vampire-hybrid just murdered Jenna for her blood! These types of shows simply have different stakes (no pun intended).
The truth is, The O.C. will be missed for what it brought to viewers — fun characters, nail-biting drama, and the Seth/Summer romance to end all romance. We may miss it, but it's not surprising that its format has been nearly retired in our current teen programming. Been there, done that. And while my fingers are crossed that someone revitalizes the teen soap format with a fresh television show, until then, I'll have to try to solve crimes with Pretty Little Liars and fight off baddies with The Vampire Diaries. Gossip Girl, 90210, and The O.C.? Well, I'm just grateful I bought your DVD packages.