The Craziest McDonald's Menu Items Abroad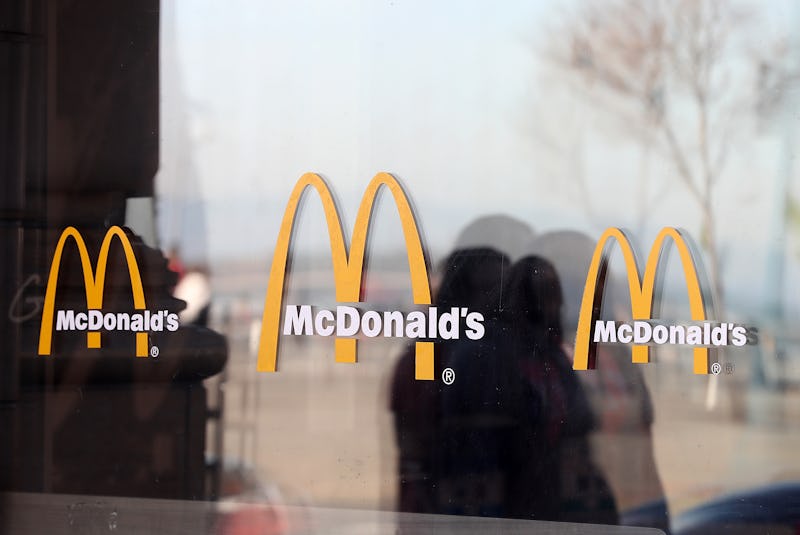 Justin Sullivan/Getty Images News/Getty Images
"I'll have a Big Mac, a five-piece Chicken McNugget with barbecue sauce, and an Oreo McFlurry." Sound like a familiar order? What about this? "I'll have a McAloo Tikki Burger with a cup of corn and the azuki bean pie, please." Not so much. While Americans have their old standbys at McDonald's, so do people in other countries, only their menus vary drastically from ours. For example, McDonald's Japan is introducing Tofu Shinjo Nuggets to its menu to replace their regular Chicken McNuggets. Which is a snack that might puzzle Americans, but totally makes sense for the Japanese market.
After it emerged that China's Shanghai Husi Food Co., which supplied chicken products to McDonald's, KFC, and Pizza Hut, regularly shipped expired meat to its customers, McDonald's Japan announced that it would pull all chicken products supplied from China from its menus. In place of the items will be alternative choices — like the new tofu nuggets.
Besides tofu, the soybean-based food immensely popular among Asian countries, the nuggets also consist of shinjo, a Japanese food made from fish paste and starch. This new snack will be the chain's first nugget product to contain tofu as the main ingredient, and will be served with a ginger dipping sauce. The Tofu Shinjo Nuggets will be available at McDonald's Japan starting on Wednesday and through September.
If you're gagging from the prospect of eating tofu as fast food, then you're in for quite a wake-up call. Some delicacies in other countries can resemble the challenges on Fear Factor, but cultural heterogeneity is a totally normal — and beautiful — thing, so embrace it, even if it's with a fast food order.
Japan
Besides the Tofu Shinjo Nuggets, customers in Japan can also order the Ebi Filet-O, a Panko-crusted fried shrimp patty topped with spicy sauce and lettuce, green-tea-flavored milkshakes, and the Gratin Korokke Burger, which uses a croquette-style patty that's crispy and fried on the outside and filled with a creamy combination of shrimp, macaroni, and white sauce.
France
Because the French are classy like that, McDonald's locations in Paris sometimes feature macarons in every color of the rainbow. Only in Paris can a McDonald's counter resemble a fashion blog.
India
In respect of Hindu and Muslim beliefs, McDonald's in India does not serve beef or pork products. Instead, they have the popular vegetarian McAloo Tikki Burger, whose patty is made of potatoes, peas, and spices. Mmm, sounds like a samosa between bread.
China
As Chinese as taro pie? While it may not be as representative of an entire culture as apple pie is for America, taro root is a common ingredient in Chinese cuisine, and one of the pie flavors at McDonald's in China. Taro tastes like sweet potato, but it's a little starchier, and its most distinguishing feature is its pastel purple color.
Israel
Some McDonald's locations in Israel are entirely kosher, with dairy products prepared and served in completely separate areas from the meat products. Other unique features include the McShawarma and the McKebab, which are both served on flatbread instead of burger buns.
Chile
At McDonald's locations in Chile, customers can order empanadas as a side and add avocado paste to any sandwich. Avocado is so popular in Chile that they have a sandwich that translates to the McAvocado. And to think that Chipotle charges you an extra $2 to add guac to your burrito bowl.
New Zealand
I'm convinced that New Zealand offers the ultimate McDonald's burger, which they call the Kiwiburger. It consists of a beef patty with a McMuffin egg, cheese, lettuce, tomato, onion, beet, ketchup, and mustard. If that doesn't sound like a party in your mouth, then you might need to check your pulse.
Images: McDonald's (3), Julien Haler/Flickr, Amy/Flickr, Wikipedia Commons, Joey/Flickr, YouTube