'Sharknado 2' Celebrity Cameos Abound, But Who Lives & Who Gets Decapitated By Flying Sharks?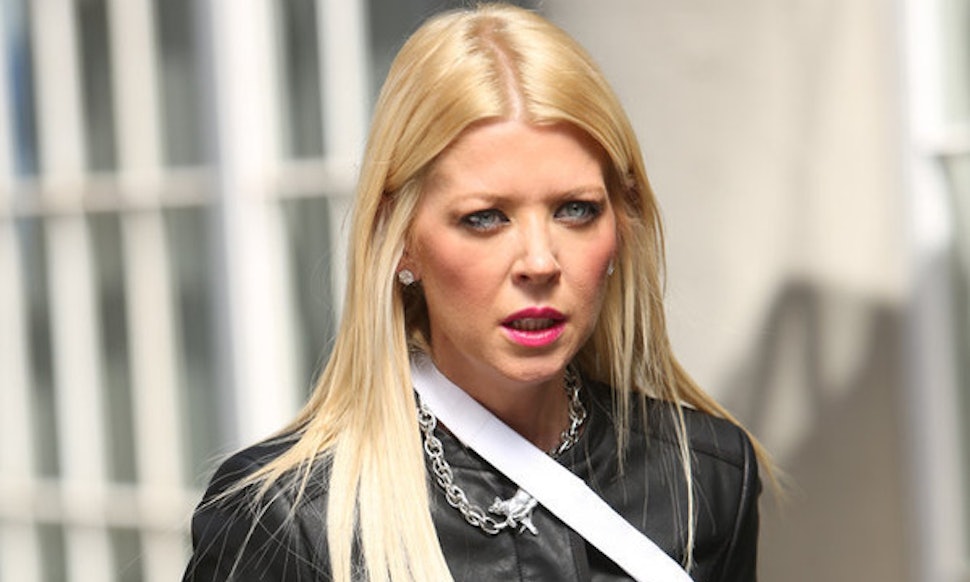 Sharknado may not have been the first phenomenally, hilariously terrible SyFy movie known to humanity (I for one, hopped on the SyFy movie train when Eric Roberts' incredibly bad masterpiece Sharktopus hit the cable network), but man, was it the biggest. Suddenly, the idea of a bad sci-fi movie with graphics straight out of 1992 was a Twitter phenomenon, so much so that the demand for a second, Sharknado 2: The Second One was definitely a must-have. And while seeing the return of '90s sort-of-heartthrob and Brandon Walsh alternative Ian Zeiring and former member of the live-action Josie and the Pussycats Tara Reid is important, it's the wealth of completely inexplicable celebrity cameos that's the real draw.
Of course, this is a disaster movie (in what other film would New Yorkers whip guns and chainsaws out of their trunks and throw them into tornados made of sharks?) so at least half of these celebs are doomed. Lucky for you, I'm running down each and every celeb cameo and their gruesome (or awesome) fates.
Image: Eric Liebowitz/Syfy
Tara Reid...'s Hand: Eaten By Vengeful Shark
Sadly, in the first five minutes of the SyFy flick, star Tara Reid loses her hand (and her obnoxiously large engagement ring) to a shark… while dangling out of a mid-air commercial airliner… and holding a gun… and shooting the sharks flying around in the, well, sharknado. She later says the shark "looked like it knew her." Yeah. OK. Fare thee well, Tara's hand. You were actually kind of a badass.
Image: Eric Liebowitz/Syfy
Billy Ray Cyrus: Not Dead
He can't manage to keep a woman with a severed hand in the E.R., but Cyrus' doctor character does manage not to have his head bitten off by a shark.
Image: Eric Liebowitz/Syfy
Perez Hilton: Decapitated By Shark
He plays a commuter complaining about a late 7 train — little does he know, the train is flanked by sharks and one of them jumps up just in time to bite his head off, which proves not to be very original in the world of Sharknado celebrity deaths.
Image: Eric Liebowitz/Syfy
Biz Markie: Super Not Dead
If you've ever drunkenly belted "Just a Friend" in a dive bar, you know Biz Markie. The rapper shows up as pizzeria owner Vinnie, who's so badass that when a shark comes flying (yes, flying) into his shop, he stabs it with a knife and smacks into the oven with a pizza peel. Needless to say, he makes it out alive.
Image: Eric Liebowitz/Syfy
"Pepa" of Salt-n-Pepa: Killed By Falling Shark
She's relegated to a sort of screaming sidekick role only to be turned into a human windshield smudge by a falling shark while riding, of all things, a super embarrassing NYC Citi-Bike.
Image: Eric Liebowitz/Syfy
Judah Friedlander: Really Freaking Dead
Sans 30 Rock phrase hats, Judah Friedlander pals around as Ian Zeiring's Fin's old high school buddy, only to be totally wolfed down in a single gulp by the very same shark that is so powerful, it can eat through the doors of a New York City subway train (but not Fin's wooden baseball bat). Sorry, Judah. At least you got to carry an oversized bat?
Image: Eric Liebowitz/Syfy
Andy Dick: Alive & Still Annoying
Andy Dick plays an appropriately skeptical cop who sarcastically undermines everything that a very determined Fin (Zeiring) says in his first TV interview about the very real, super serious Sharknado headed towards New York. It must be his blithe sarcasm that saved him from death by shark.
Image: Eric Liebowitz/Syfy
Kelly Ripa: Triumphant, Alive
She winds up killing a shark that flies into her studio with her gorgeous, red stiletto. #bossbitch
Michael Strahan: So, So Dead
Kelly Ripa may have taken down her attacker, but she couldn't save her Live! co-host, who got a full-grown shark to the face.
Wil Wheaton: Totally Dead Nerd Hero
Wheaton is just chilling the doomed airplane at the outset of Sharknado 2, only to have his head ripped off by a shark flying down the aisle. RIP. (Also, why do all these sharks fly through the air? Wait, why am I looking for logic in a Sharknado sequel?)
Image: SyFy
Kelly Osbourne: Lost Her Purple-Coifed Head
She plays a flight attendant on Fin's flight to New York, and just like every celeb cameo in that scene, she's doomed. She also gets her head ripped off by a flying shark. I'm sensing a theme here.
Matt Lauer & Al Roker: Survivors & Shark-Killers
They spend most of the movie explaining "the science" of sharknados on "The Today Show" and end their pivotal involvement by repeatedly stabbing a shark with a Today umbrella. That's how it's looking in their neck of the woods.
Judd Hirsch: Dead, Fell Into Shark's Mouth
Hirsch, who is famous for starring as Alex in Taxi, plays, well, a taxi driver. He becomes Fin's guide to New York (though it's any New York I've ever encountered) only to fall into a shark's mouth while trying to hop from water-logged taxi to water-logged taxi.
Robert Hays: Super Dead
Younger viewers may not know this guy, but Hays famously starred in the classic comedy Airplane, so it's appropriate that he plays a doomed airplane pilot in Sharknado 2. It's just unfortunate that he dies immediately when he flies out of the front window of his aircraft.
Jared From Subway: Presumed Dead In The Subway
We find Jared from Subway, well, sitting in the subway chatting away… until a wave of shark-filled water fills the tunnel. We don't see him die, but if Perez Hilton didn't make it, what chance did Jared have?