Who's The Mayor of Whatever, USA?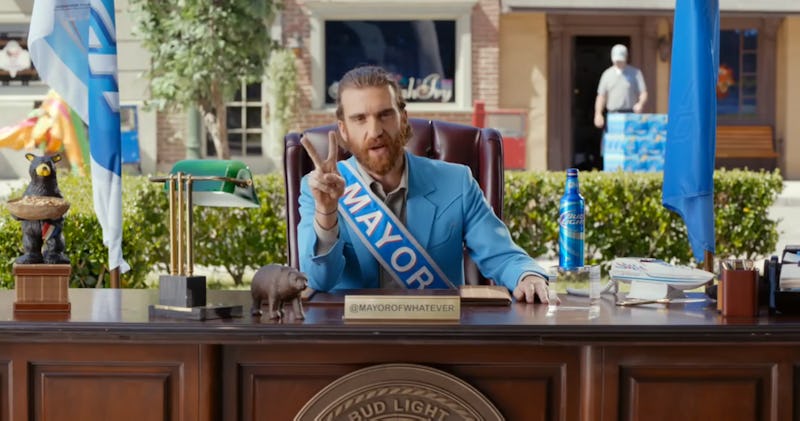 Whatever, USA: It's a quaint, Main Street town. Or maybe it's a teeming metropolis that's bursting at the seams. Or maybe it's a cookie-cutter suburb with little houses made of ticky-tacky. Whatever, man. It's Whatever, USA and Bud Light has yet to reveal which real town was selected to play host. What I know to be true about Whatever, USA: there is a mayor, there is a lot of Bud Light, there are cakes on cakes on cakes, there are ponies, and the town is for people who are up for whatever. It could be anywhere. I searched the World Wide Web for Bud Light's mystery town's location (the Internet has to know, right?!), and the closest thing to an answer was the guess that Whatever might be in Colorado. Though the Internet could not tell me the exact coordinates of Whatever, USA, it did tell me who plays the Mayor: the bearded, sky blue suit-wearing dude in the latest batch of Bud Light commercials is actor/improvisor George Basil.
A few of Basil's many credits: countless CollegeHumor videos (okay, fine. I'm being dramatic. I could count all of them if I wanted to. But I don't want to right now. Sorry), Roller Town, a pile of Vonage ads, and The Pete Holmes Show.
Hold up. Which Pete Holmes Show sketch was he in? [Racks brain] DID HE PLAY WOLVERINE IN THAT ONE "EX-MEN" SKETCH?!?! [Checks IMDB] AUGHHHHH HE DID.
Ugh, I will never not love this:
I hope Bud Light reveals Whatever, USA is just Professor X's mansion.
Image: Bud Light