So, Lauren Conrad is Psychic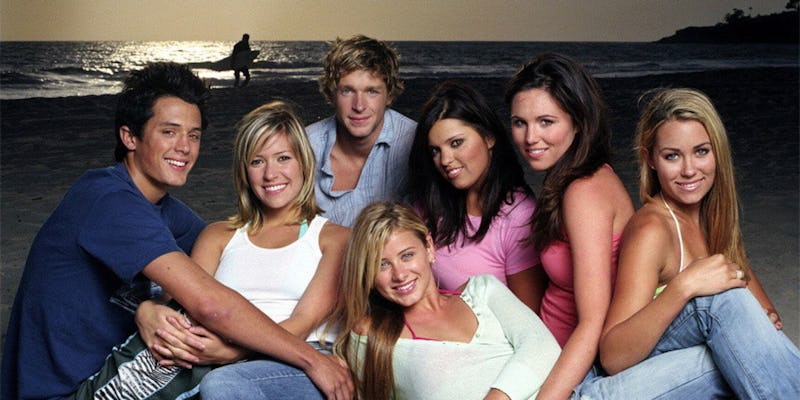 "Where do you think you'll be in 10 years" is easily the most popular question to ask a high school senior. When Laguna Beach premiered on MTV a decade ago, the absolutely not basic Lauren Conrad had just graduated high school, and she and her friends were wondering where each of them would end up. Well, get ready for one of the best throwbacks you've ever seen — in a clip from 2004, Lauren Conrad and Lo Bosworth predict where they'll 10 years after graduation with Morgan Olsen and Christina Schuller. And, honestly, they weren't really that far off.
First, wrap your head around the fact that it's been 10 years since Laguna Beach premiered. Yes, it's really been that long — I know, it's crazy. What's even crazier is that LC's friends knew at 18 that she and Lo Bosworth were destined to live the dream by the time they'd be 28. (Though I don't think anyone could predict Allure making the big mistake of calling Conrad basic.) In fact, these four high school grads pretty much knew exactly what they'd all be doing 10 years after graduation to the point where I'm actually wondering if MTV is STILL scripting their lives.
Lauren "LC" Conrad
Prediction: "Lauren, in 10 years, is going to be like driving her silver Mercedes and like, be living at her beach house with her billionaire husband — with her really hot husband."
Reality: In March 2014, Conrad bought an $8.5 million beach-front mansion in Laguna Beach, so that technically counts as a beach house, right? And, while she's not married yet nor is she driving a silver Mercedes — Conrad is engaged to William Tell who is pretty hot but not a billionaire. Essentially this is a creepy success.
Lo Bosworth
Prediction: "Lo, you'll she Lo at the reunion waltzing in with her like, bling and fur — except she's some high executive businesswoman."
Reality: Well, since high school Lo Bosworth's cemented her status as an entrepreneur and she's her own boss, so I'd say that counts as a "high executive businesswoman." Bosworth runs TheLoDown, a lifestyle site curated by the reality star.
Morgan Smith (neé Olsen)
Prediction: "You'll be married and probably living back here."
Reality: Well, she is. The former Laguna star is married to Joel Smith, recently had her first child (a boy named Theo Sundstrom Smith), and oversees the digital marketing and PR for Bugaboo North America while also curating her own lifestyle blog, Smith, Here!
Christine Sinclair (neé Schuller)
Prediction: "I'll be going to the Oscars."
Reality: Well, she didn't make it to the Oscars. The "reverend's daughter" graduated from the University of Southern California, tried acting for a little longer, and then decided to get into fitness and nutrition. Sinclair manages the blog Beach Babe Fitness, is married, and just gave birth to her first child, a boy named Christian Sutton, in May 2014.
Watch the full clip from Laguna Beach Season 1 here:
Images: Getty Images (2); MorganSmith, ChristinaSinclair/Instagram