He's Going To Be the Troublemaker on 'RHONJ'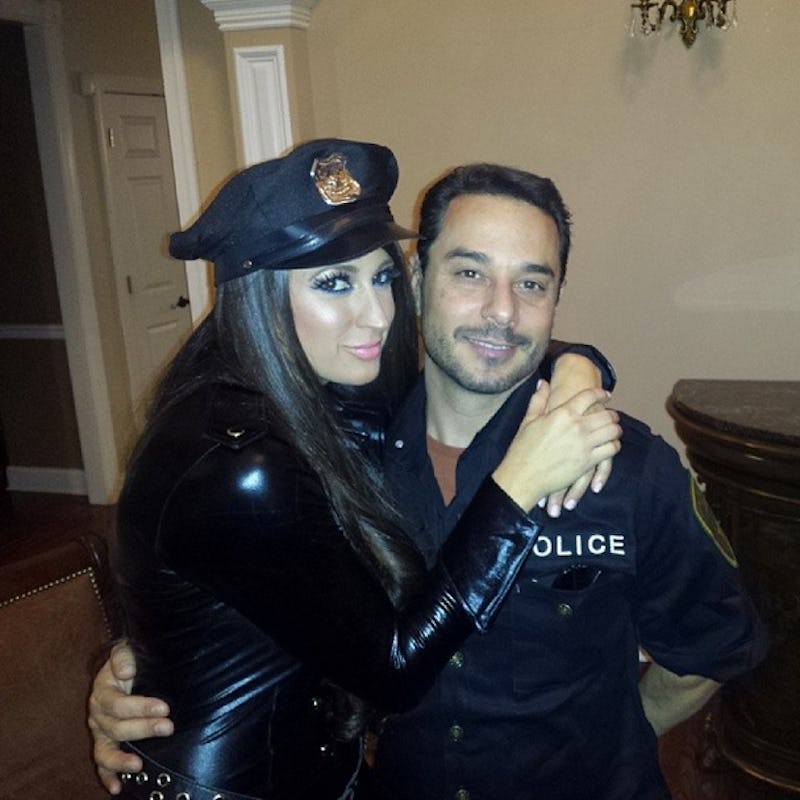 When the title of the show is The Real Housewives of New Jersey , you expect each episode to revolve around the lovely ladies of the Garden State. And for the most part, it does. However, on this show, the husbands are often very involved in the drama and seem to get almost as much air time as their spouses. Take Jim Marchese, the husband of RHONJ newbie Amber, for instance. Just a few episodes in to his debut on the series, Marchese is already causing quite a stir.
In the upcoming episode of RHONJ on Sunday night, where the Housewives and their husbands dress up as first responders (police officers, fire fighters, paramedics, and the like) for a costume party, Marchese gets all up in Joe Gorga's grill and tells him that he's working with the attorney general that's prosecuting Gorga's brother-in-law, Joe Giudice. From what we can tell coming up later on in the season, everyone seems to become pretty peeved with Jim. In a video Bravo created where the husbands get their own opening credits to RHONJ , his tagline is "There's no way I should be near any of these people. That sums it up." Yes, that really does sum up why the other cast members don't get along with Jim so well. So who is this guy that seems to grind everybody's gears?
In addition to being married to Amber, who is his second wife, with four children, Jim is the president and CEO of MortgageNow, Inc., which deals in FHA lending. Amber stars in some interesting commercials for the company, and it looks like we'll get to see the filming of one during Sunday night's episode. Ah, another Real Housewives cast member hocking a product on TV.
Jim's association with the prosecutor has come under question in the media. RadarOnline reported that the U.S. Attorney's Office is prosecuting the Giudices, not the attorney general, and that "no one involved with the prosecution has any idea who that man is." Ouch.
In response, Jim said in the episode, he was trying to explain to Gorga that he is working with the New Jersey Department of Justice on a mortgage fraud case, which he thought was also prosecuting Giudice. Jim didn't want to discuss the Giudices' case to protect his and Giudices' families before the case had been resolved, and he used the term "attorney general" because he didn't think Gorga would understand the term "U.S. Attorney's Office."
Jim may actually know more about what the Giudices are going through with their legal issues than we originally thought. In 2006, Marchese filed a lawsuit against his former employer, Cell Therapeutics, for illegally marketing a cancer drug and getting millions from Medicare. The federal government at first joined him in the whistle-blower suit, but it then accused him of being the mastermind behind the scheme to promote the drug to oncologists and Medicare, saying it was approved for treating cancers that it was not in actuality. An ex-girlfriend even testified against Jim. However, he walked away from the suit with a cool $1.6 million.
Wow. Armed with attitude, guts, and past legal troubles, Marchese really did come prepared to RHONJ. Was this guy made for reality TV or what?
Image: ambermarchese/Instagram