How Much Does It Cost To Talk to Theresa?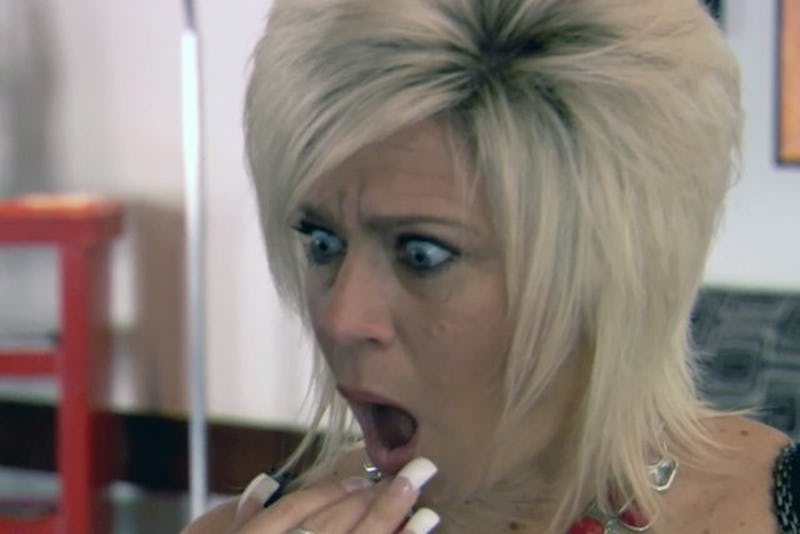 There are two thoughts that run through my mind every time I sit down to marathon episodes of Long Island Medium . First, how is it possible that someone's voice actually sounds like that? And second, how can I hear that magnificent voice in person? Despite what people may say about Theresa Caputo and her medium skills, I think she's legit. And even if she's not legit, she's managed to help a lot of people find peace after they lose people they love, and that's still achieving the goal, right? It's hard to deny that she's pretty accurate, too. Regardless of how you might feel about Theresa, people are lining up to see her. On her website, she warns of a long waiting list — and I have a feeling that once your appointment finally does come, it's going to cost you.
So how much does she charge to chat? No official price point has been confirmed, but with a following like hers, Theresa could probably charge anything she wants. And although charging an insane rate would probably be lucrative for the time being (thanks to the popularity of her TLC show), it doesn't sound like that's the route she's decided to take.
In a 2012 interview, Theresa denied the rumors that she charges $400 per 30 minutes, which would be pretty steep, especially when you consider that your appointment might last longer than that. $800 for an hour with the woman? As fabulous as she is, even Theresa doesn't think that'd be fair. "My fee for an hour is still very reasonable," Theresa said. "Much less than the rumored amount."
Another medium named Shelly Frey who's spoken to Theresa about what she charges in the past says that she thinks it was $250 per 30 minutes — yeah, that's a big difference.
Still way out of your budget, but you need to talk to Theresa? There are other ways to go about it. She spends a lot of her time on tour, and ticket prices aren't nearly as high as an hourly charge could be. Prices for her upcoming tour range from $52-$115 on Ticketmaster — not too bad! Of course, you have to remember that it's a lot different than a private reading, and with a large group of people, your chances are slim that she'd pick you out of the crowd. But hey, it could happen! And if witnessing Theresa in action is enough for you, that's the best way to go about it.
And, of course, you could "accidentally" be in the same grocery store/coffee shop/restaurant/public restroom as Theresa in her Hicksville, NY hometown. If you've lost a loved one, she will sniff you out and read you for free, as she tends to do anytime she leaves the house. As Victoria and Larry Jr. know, you can't take Theresa anywhere.
Image: TLC