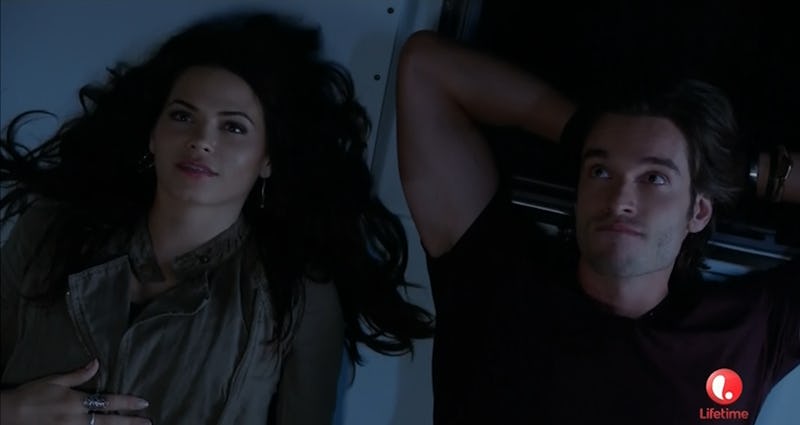 The wait might finally be over for you Frillian fans — well, sort of. We have to wait until Aug. 10 for the next new episode of Lifetime's The Witches of East End Season 2, but the show's Twitter account dropped a preview on July 28 that's got some serious romantic action between WOEE's "star-crossed" duo. Fans already know that Season 2 is going to be rough for our favorite, steamy lovebirds Freya Beauchamp and Killian Gardiner, but apparently it won't be getting easier with a reunion, or ever, for that matter. Being criminally attractive and supernatural soul mates just isn't enough these days to keep a relationship safe from chaos. But, hey, at least Jenna Dewan-Tatum confirmed that Frillian is happening "soon."
During last Sunday's episode, we saw Killian back in the East End for the reading of Penelope's will and a protection-spell-gone-awry with his brother and Freya's former fiancé Dash. And, even after he almost killed himself with the help of his brother (thankfully Ingrid came to the rescue), Killian said that he planned to talk to his new girl, Eva, about hanging out with the family grimoire in the East End for a little while longer. Which can only mean one thing, right? Killian and Freya are going to have to deal with this whole soulmate business, face to face. Watch the promo for WOEE's Aug. 10 episode below.
So much Freya and Killian action, it almost makes up for the past four episodes' lacking their chemistry. At the beginning of the promo, it looks like Freya's taking the same serum Ingrid used to see into her past, but when the video flashes to Freya and Killian, they appear to be in modern East End. So what exactly are we seeing and are all of the warnings we hear suggesting that either Freya or Killian is going to meet a messy, tragic end by getting back together? I mean, they are "star-crossed" after all.
During the WOEE panel at San Diego Comic-Con on July 24, Dewan-Tatum, who plays Freya, revealed that Frillian is coming. Which, of course, we already knew, but it might be happening as early as the next new episode and that's both great and terrible for these characters. Also during the panel, executive producer Maggie Friedman revealed that Death is coming to the East End and that "some beloved characters will be with us no more." (If you forgot, the Death card was pulled earlier this season.) How does that apply to Freya and Killian? Here's how.
In the promo video Killian pleads with Freya to "leave him and be with me" and she responds with "he's dangerous in ways you can't understand" before the video flashes to an image of Frederick drinking by a fire. Since Frederick, who happens to be Freya's twin, came to the East End, it's almost been like he and Freya have been joined at the hip, much to Joanna's disappointment — so what if Frederick will be the one to come between this romance? Which would mean that Death could be coming for Killian, if Freya jumps the gun and runs away with him.
It's a long shot, considering how much of a fan-favorite the Frillian 'ship is. But Daniel DiTomasso's tall, dark, and handsome Gardiner brother is definitely beloved and like Joanna says in the promo, the opening of the portal to Asgard has already resulted in the death of two people. Death is coming and we all know how "star-crossed" love stories end. Sorry, everyone.
Image: Lifetime