Katy's Hairstyles Ranked From Best To Worst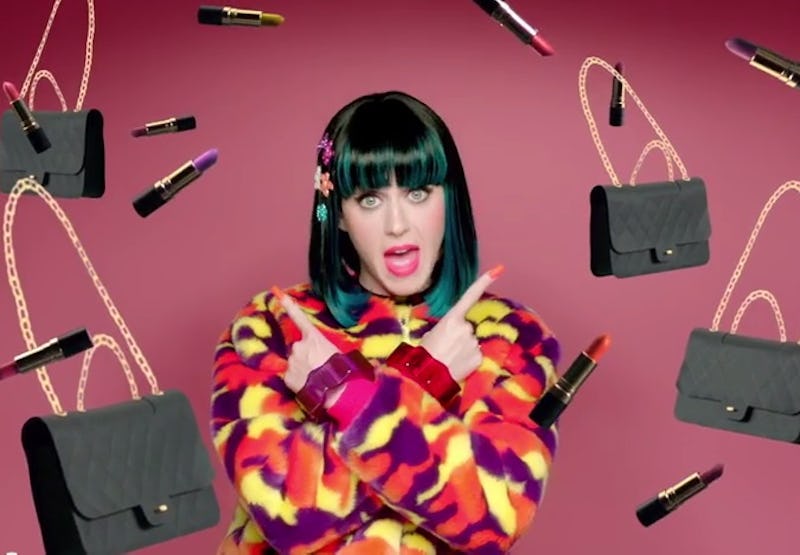 At this point in her career it would be easy to assume that we have seen Katy Perry in every possible hairstyle and color, but we thought wrong. After the release of her new music video for her latest single "This Is How We Do", Katy Perry has shown the world that she has more fashion and beauty tricks up her sleeve. Following along with her often over animated persona, Perry's new video incorporates cute graphics involving food, makeup, and fashion accessories. The video also showcases Perry in an array of different outfits and hairstyles that each tell a different story in regard to her budding personalities.
In the world of Miss Perry things are certainly never black and white. Instead, her world is rampant with vivid colors, outlandish visuals, and as always, a little bit of humor. What we have come to expect from this adorable pop star is exactly what she delivers every time, a stellar music video meant to be placed on repeat. The singer starts off her video with a blunt bob and moves right along to a dark green ombre hairstyle that somehow calls for a septum piercing, and the looks just get crazier from there. The video moves quite fast, changing back and forth between all of her playful looks. In order to get the full experience, I have taken the liberty of ranking Katy Kat's "This Is How We Do" hairstyles from the very best, to sadly, the worst.
1. DIP DYE SUCCESS
This is Katy's best look from the music video and the reasoning behind that really comes down its timeliness. Dip Dying is still all the rage right now, and this hair and outfit ensemble in particular is reminiscent of another huge star, Iggy Azalea.
2. EASY STREET
Perhaps one of the safest hairstyles from the video is this little Perry gem. Her high pony twist spells perfection and the Lolita inspired heart shaped sunnies are the ideal accent to her look.
3. SPORTY CHIC
Coming in at number three is Katy's blue halo of hair resting on top of her black roots. She scores extra points for being able to play table tennis in those chunky heels!
4. VINTAGE VAMP
The video's introduction presents Katy in this sweet asymmetrical bob reminiscent of an extra from The Great Gatsby.
5. STYLE RACER
While driving a car, the pop star looks fierce in her tightly pulled back mane. The volume captured during this part of the video is what hairstyle dreams are made of.
6. BUBBLY BOB
The short bob here is OK, but when placed in conjunction with those insanely thin eyebrows, all I see is Angelic Houston, and it looks scary.
7. PUNK'D OUT PERRY
Katy Perry with a septum piercing may not be the worst, but she is definitely not the best either.
8. NEON '90S
The double mini bun once made famous in the '90s by artists like Gwen Stefani has slowly begun to make a comeback, and Katy Kat is all over that.
9. MOD ABOUT IT
Tuning in again to her retro side, she brings to life this interesting spin on the mod look. Is that a sugar cube on top of her head?
10. HIP HOP GONE WRONG
She is all about versatility, but Katy's version of cornrows just doesn't seem to suit her sweet as pie persona, and for that reason this look is at the bottom of the list. She may not be able to win them all, but it looks like she had a ton of fun trying.
Images: KatyPerryVevo/YouTube