Back-to-School Shopping For Tots is Getting Pricey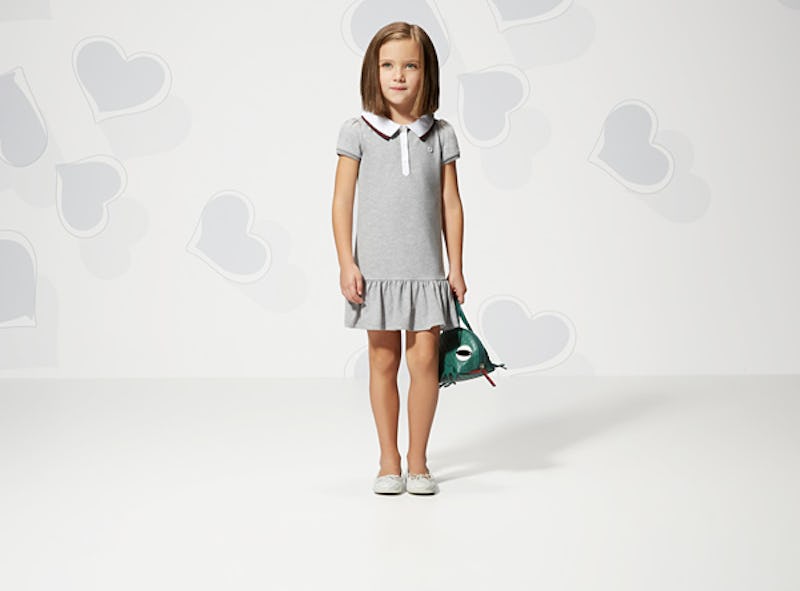 My annual back-to-school shopping trip, aka Christmas in August, involved an escalator ride up to the children's department of Macy's. I'm sure it wasn't exactly a cheap day for my mother as I loaded up on trendy little dresses that I hoped would put my fellow elementary school attendees to shame. But some designers want to take fall fashion to a level beyond anything childhood me would have dreamed. Think $645 Gucci purses. Think Dennis Basso furs. For little kids.
Both the Gucci children's line and Dennis Basso's new collection at Harrods are meant for girls between the ages of four and 12. Do you know how much growing kids do during that time? Even if you are rolling in so much dough that you occasionally light some 100 dollar bills on fire just to get them out of the way, you are out of your mind to spend thousands on a wardrobe for your four year old. She won't even be able to wear that hot-pink leather trimmed wool dress ($595) come next fall.
Look, I get the "fashionable children" thing, I really do. If a future daughter or son of mine spent their allowance on iPhone games instead of cute clothes, I would send them to Urban Outfitters to think about what they've done (just kidding, my kids will exclusively wear Crewcuts). But a $50,600 sable coat? $1,050 leather leggings? Noooo way. Your daughter is not North West.
Maybe skip the designer clothes and toss some of that cash into, I don't know, a college fund? Perhaps we should allow children to be children and stop encouraging them to invest in their first sable before they hit double digits. Haven't been swayed? Here are some very extravagant wares for your mini fashionista.
1. That $50K Sable Coat
2. A Gucci Frog Purse ($645)
3. More from Dennis Basso for Harrods
4. Those Leather Leggings ($1,050)
5. Wool Silk Cape ($465)
Images: Gucci(4), dennisbasso/Instagram