5 Outfits For Your Next '90s Hip Hop Reunion Show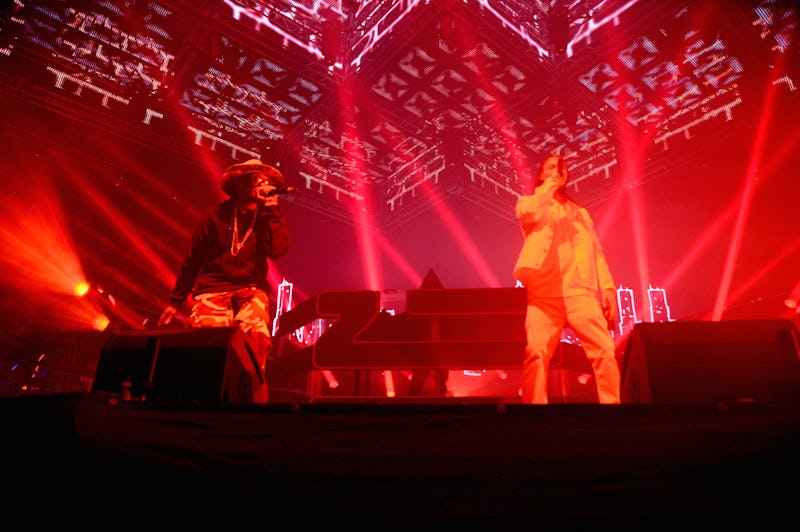 Michael Tullberg/Getty Images Entertainment/Getty Images
It's the moment we've all been waiting for: a resurrection of 1995, where open-buttoned, baggy flannel shirts over the ill-advisedly nicknamed "wife-beaters" ruled the streets, and do-rags were an acceptable head-piece to wear to even the most elegant affair. Yes, it's true: Cleveland is definitely in the house. If you believed the rumors on hip-hop blogs — you were correct. Bone Thugs-N-Harmony is on tour and recording a brand new album, featuring all of our fave bones. The catch? There will only be one copy made: This copy will go to the highest bidder. Although Bone Thugs are no longer the hottest hip-hop act to follow, I'm fairly certain my measly offer of $20 will keep me out of any bidding war. If your parents aren't willing to put up their mortgage to get you this rarity, attending the concert is the next best thing.
The set list includes some of our old favorites like "Thuggish Ruggish Bone" and "1st of Tha Month" plus some new tracks off the new album that only one lucky fan will own. Thanks to the abundance of bootlegs you can purchase on the Internet or any NYC street corner, you can focus your extra cash on fly concert gear instead of outbidding Kanye West. What will you wear to catch the eyes of Krayzie Bone, Layzie Bone, Wish Bone, Bizzy Bone AND Flesh-n-Bone? If you are a true fan, it won't be Crip Colors... Here are 5 hip-hop appropriate, outfits that you can bounce to, take a shot to, or smoke a... well, you know the rest.
1. The Flannel, The Boots, The Chain
This is the look that's going to bring sweet '90s nostalgia with the perfect blend of modern fashion sense. Basic show-going rules apply here: Don't wear super-high-heeled boots. Wear a low, modest heel so you can dance and pour some liquor out for Eazy-E when Krayzie Bone, the more emotional Thug, inevitably silences the crowd to take a moment for a fallen homie.
2. The Romper, The Sneaks, The Shades
The look is one part casual, one part vintage-classic, and one part hood: Just like Bone Thugs-N-Harmony. Dressing down your romper with sneakers is key, you want to be able to dance and run from concert security, should you choose to light up during "The Weed Song". Wondering why you'll be wearing sunglasses at night? Look around you at the concert, ma; you will not be alone.
3. The Shorts, The Crop Top, The Hat
Nothing makes for a better dance prop than a hat, especially one with a rim. When you're doing a shoulder shake? Let your hands magically drift up to the rim of your hat and feel the dancing power. The crop will allow you to femme up your hat, and the shorts are a key element in concert-going in the summer.
4. The High-tops, The Label, The Baggy Pants
Yes y'all, what would a Bone Thugs concert be if you weren't advertising a brand on your shirt with a pair of baggy pants? Bonus points if you bring back FUBU or LUGZ. High tops have never left hip-hop, so throw on an old or new pair and your game will be tight for the night.
5. The White Tee, The Leather Shorts, The Heels
I'm not an advocate of heels at concerts, but if you've got seats and a large boo at your side? Fear not, those heels will stay so fresh and so clean all night long. You can't go wrong with leather shorts, they're casual and full of bling. Plus, nothing says 90's hip-hop like a white T-shirt.
Image: Kristin Collins Jackson; GrasieMercedes; Polyvore; Lollipuff;