Who Is 'Candid Camera' Host Peter Funt? 5 Things To Know About the Veteran TV Host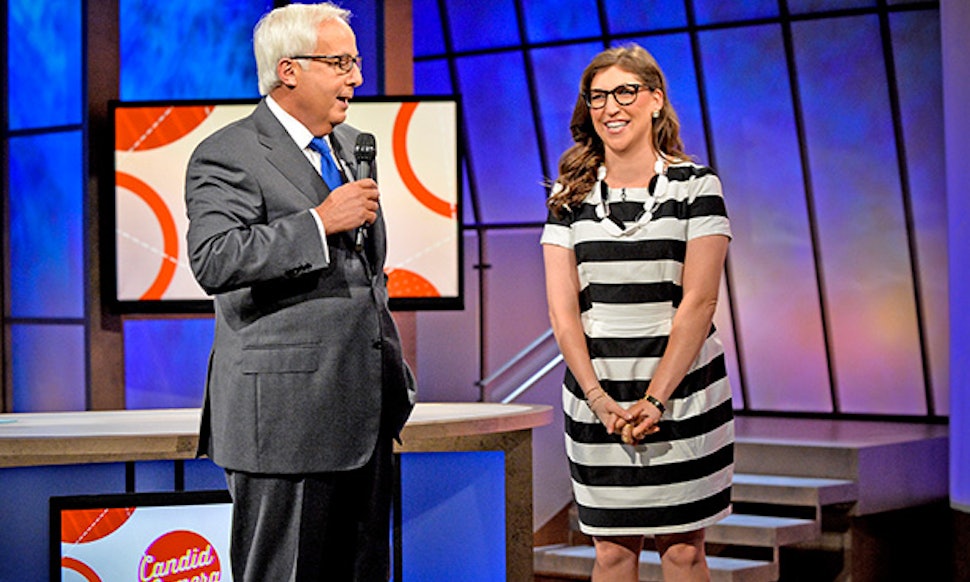 Tricking people with silly pranks on reality TV: this is the stuff so many quality programs are born of. I Wanna Marry Harry was perhaps the newest (and lowest rated) version of this setup, but we've seen plenty of folks fooled on Joe Millionaire, Undercover Boss, and of course Punk'd. But before them all was the OG prank show: Candid Camera , a program that first went on the air in 1948.m1948! Now TV Land is bringing the classic back, with co-hosts Mayim Bialik (of The Big Bang Theory) and Peter Funt. Funt's been involved with Candid Camera as a producer and host since 1987, which is why he may look so familiar. Let's learn a little more about the jokester we all grew up with, before he returns to his hosting duties on Aug. 11.
Image: TV Land
Like Father, Like Son
Allen Funt (pictured), Peter's dad, first started Candid Camera as a radio program in 1947, called Candid Microphone. The show jumped to TV a year later, just as television sets were becoming common in American homes. Candid Camera has been on and off the air multiple times since its founding, and at one time or another has appeared on all three major networks—ABC, CBS, and NBC.
Peter first showed up on the program in 1951, when he was just three years old. He played a shoeshine boy who vastly overcharged, a prank which was obviously the height of edgy humor in the early 1950s.
Image: ABC
Taking the Reigns
Peter joined his father as co-host of Candid Camera in 1987. They worked together for six years, until Allen had a stroke in 1993, and Peter took over hosting and producing responsibilities full time. Peter served as the head host from 1993 through 2004, when the last original episodes were made. During those years, he co-hosted with Suzanne Somers (pictured) and later Dina Eastwood—Clint's (soon to be ex) wife. Even though the show hasn't produced new episodes in 10 years, it still plays in syndication. During the course of his career, Peter has hosted and acted in over 200 episodes of Candid Camera.
Image: CBS
Not Just a Funny Face
Even though Funt is best known for his CC hosting duties, he's done a lot more than just appear on Candid Camera. Funt earned a degree in mass communications and journalism from the University of Denver, and he worked as a radio newscaster in Denver and New York. He used his capacity as a journalist to champion the civil rights movement: as a college student in 1967, he interviewed Dr. Martin Luther King, Jr. at the University of Denver's radio station just a year before King was assassinated.
As a professional reporter, in 1970 Peter won a Silarians Award — an honor given by a the organization of acclaimed journalists — for his coverage of race riots in Asbury Park, New Jersey for ABC News. He was only one year out of school when he was given the award.
Image: University of Denver/YouTube
Side Projects
Funt quit many of his journalistic pursuits in 1987, when he took over as head host and producer of Candid Camera full time. However, since the show went off the air in 2004, he's gone back to writing. He is now a regular TV and film columnist for the New York Times, the Boston Globe, and the Wall Street Journal, for which he often writes op-eds regarding the state of news media today. He's not exactly pleased with the current culture of cable news programs and "citizen reporters," and he's more than happy to share his thoughts.
Here are a few of his recent headlines: "So Much Media, So Little News," "Big Media's Latest Mistake," "A Snapshot of Our Disposable Culture" (about the perils of SnapChat), and "News Flash—Twitter Rants Aren't News." Granted, the dude was born during a time when home televisions were still a novelty, and he's seen the development of the entire industry, from three channels to 1,000. But he should still probably ease up on the social media hate.
Someone Old, Someone New
Funt won't be hosting alone when he heads back to TV Land on Aug. 11. Mayim Bialik will be joining him. Bialik is no stranger to comedy herself, having starred in The Big Bang Theory since 2010. But she was still starstruck when she found herself working alongside Funt, one of the fixtures from her childhood. She told The Hollywood Reporter in late July, "I am very excited to be working with … the legendary Peter Funt on the newest incarnation of the original feel-good reality show, Candid Camera. … Since I was a child, I have found it impossible to not smile when I hear, 'Smile! You're on Candid Camera !' and I am honored and tickled pink to get to be a part of this amazing franchise."