The 10 Best Towns for Vacationing on a Lake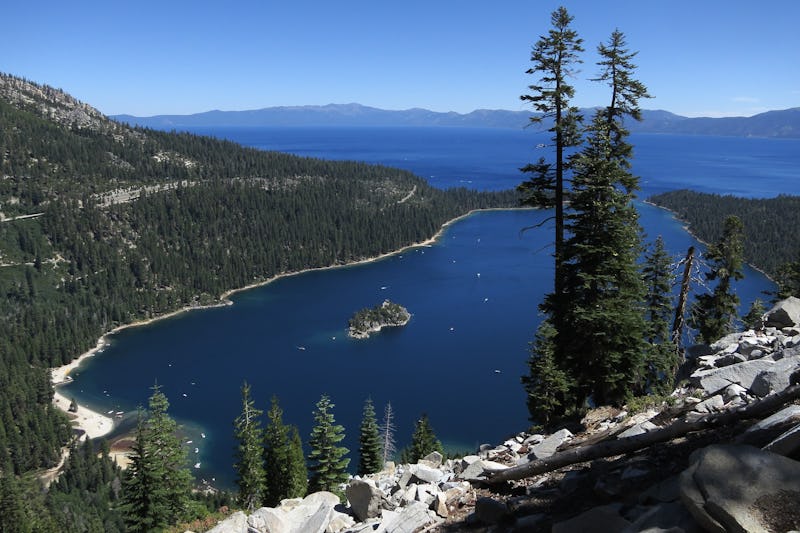 Sean Gallup/Getty Images News/Getty Images
Of all the things people are frequently divided over— coffee v. tea, Mac v. PC, nighthawk v. early riser — lake v. ocean may be one of the more telling. Though each body of water offers roughly similar pursuits, the person who cherishes the rustic quiet of a lake is rarely the same person who gets her thrills from the noise and exhibitionism to be found at beaches. For many, summertime relaxation involves not a rented umbrellas and foot-stomped sandcastles but rather foggy mornings, one-room cabins, and the sounds of oars hitting the water. Piña coladas, sand-spewing volleyball matches, bodies both gorgeous and horrendous on display? Leave that to St. Pete set, the lake-goers say.
Of course, the appeal of lakes cannot be overstated. In these increasingly distraction-infested times, a little R&R on a dock, like a little Abercrombie & Fitch ad come to life, sounds like just the medication we all need.
Here, we've rounded up the ten best lakeside towns in the U.S.,because summer — despite the distressing appearance of back-to-school displays and fall collections — is barely halfway through. In these next few weeks before Labor Day, you should make it a priority to visit one of these locales. When the machinery of life gets back up and running in September, you'll be glad you stole away for a weekend of quiet escape.
10. Walden Pond, Concord, Massachusetts
Walden Pond remains the chief symbol of the meditative relaxation and retreat from society that lakes make possible. Henry David Thoreau lived here for two summers and recorded his experience in Walden; or, Life in the Woods. Though it's no large lake — don't expect a dinner cruise — Walden offers hundreds of acres of protected forests filled with trails for hikers; it's also a popular swimming destination. We honestly can't think of any place better to lie back with a book.
Where to stay: The Inn at Hastings Park (in nearby Lexington)
9. Caddo Lake, Karnack, Texas
Caddo Lake, which straddles the Louisiana-Texas border, looks a bit like the setting of some spooky scene from True Detective, what with all the Spanish-Moss-draped cypress trees and, oh, alligators, dispersed throughout the lake. While the surrounding state park offers hiking and camping, visitors can fish and take boats on the lake (just be sure to brush up on your alligator safety beforehand).
Where to stay: Caddo Lake Cabins (in nearby Uncertain)
8. Flathead Lake, Montana
Flathead Lake combines the joys of lake-going with the charm of a dude ranch. According to Travel + Leisure, the surrounding state park is filled with wild horses, and "guests can enjoy equestrian lessons, trail rides, cookout rides." Not to mention, would you look at that insanely clear water?
Where to stay: Flathead Lake Lodge
7. Lake Placid, New York
In addition to being the hometown of Lana Del Rey and the site of the 1980 Winter Olympics, Lake Placid lives up to its name, offering a quiet sanctuary tucked away in the thick of the Adirondacks. Along with Tupper and Saranac Lakes, Placid forms part of the "Tri-Lakes" region, and the area offers much in the way of water activities, entertainment, and lodging.
Where to stay: Merrill L. Thomas Waterfront Cottages
6. Lake Lanier Islands, Georgia
The island-filled Lake Lanier in northern Georgia serves as a vacation destination for R&R-seeking crowds from Atlanta. The area sports enough activities to accommodate even the most diverse array of travelers: golf courses, spas, houseboats, and campgrounds abound.
Where to stay: Lake Lanier Islands Resort
5. Lake Havasu City, Arizona
Smack dab in the middle of the Mohave County in Arizona lies Lake Havasu, a true desert oasis that attracts both southwesterners and travelers from all over seeking relief from the region's aridity and high temps. In addition to charter boat tours, state parks, and golf courses, the city also offers a slightly offbeat attraction: The London Bridge, an actual overpass that once presided over the Thames, and that was purchased by Lake Havasu city when it was dismantled in the UK in 1967.
Where to stay: London Bridge Resort
4. Lake George, New York
Lake George offers access to both the lake of its name as well as the slightly more impressive Lake Champlain, which straddles the border of New York and Vermont. This latter lake, which stretches for 121 miles, boasts both a beautiful setting and a rich history, having served as a crucial location in several conflicts, including the American Revolution. In addition to historical sites dotting the coast, visitors can take advantage of both lake's boating opportunities and the quaint shops and restaurants in the surrounding region.
Where to stay: The Sagamore
3. Lake Tahoe, Tahoe Vista, California
Lake Tahoe is one of the few lake destinations that's just as, if not more, popular in the winter as it is in the summer. CNN notes that the locale is "nirvana for skiing," as "[s]even major winter resorts ring the shore." But the lake is also more than deserving of a summer visit. Drawing crowds from all over California and the Pacific Northwest, it is also a party oasis. (See, who says you can't have a little rowdy fun on a lake?)
Where to stay: The Shore House at Lake Tahoe
2. Lake Chelan, Chelan, Washington
Much if not most of Washington State is sublimely beautiful, but Lake Chelan in particular looks like a CGI configuration straight out of the next Avatar movie. The narrow 50-mile lake is surrounded by blue mountains, and the coast lacks the overcrowding and eyesore developments that mark many other lake regions. Stay in the town of Chelan and take advantage of the boat rentals at Lady of the Lake. For a nature excursion, drive up the coast to the 127-acre Lake Chelan State Park.
Where to stay: Watson's Harverene Resort
1. Lake Minnetonka, Minnetonka/Excelsior/Wayzata, Minnesota
For many, Minnetonka calls to mind those charming but flimsy moccasins that swept through cities like a fad drug a few years ago. In their stead, maybe we can go back to appreciating their namesake, which is nearly 15,000-acre, 42-bay lake in Minnesota that serves as a favorite destination for crowds from all over the Midwest.
If that doesn't convince you, it's also been graced, like perhaps too many things, by the presence of Kim Kardashian. Thrillist notes: "The whole Kim Kardashian-Kris Humphries affair may have lasted about as long as her music career (yep, that happened), but it didn't stop the couple from dropping in on Lake Minnetonka. This sublime watering hole…has seen plenty of action."
Where to stay: The Bird House Inn (in Excelsior)