She Got an Unusual New Pet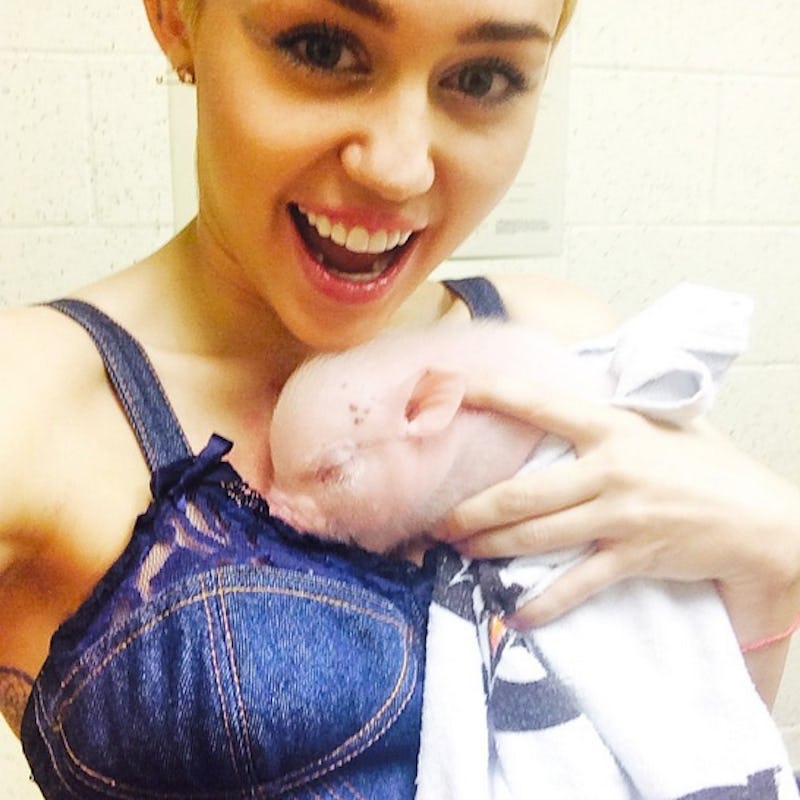 Nature called and Miley Cyrus answered. No, I'm not talking about when Cyrus Instagramed her woodland pee, although that was quite an answer in and of itself. Apparently after her weekend trip, Cyrus decided to bring a bit of the outdoors back home with her. In fact, Cyrus posted photos of her new pet pig all over her Instagram for most of the day on Sunday, proudly showing off Bubba Sue to her followers as the latest member of her family. Bubba is Cyrus' second pig if you count the one that PETA sponsored in honor of her birthday, but Bubba is the first pig to be living and traveling with her. Cyrus might be the TMI queen, but this is one of those times where you can't judge her for it because Bubba Sue is basically the cutest pig in the entire world.
"Newest member to the fam #bubbasue," Cyrus captioned the first picture, which featured the mini-pig sticking its snout down Cyrus' shirt. (Is anyone surprised that this was Cyrus' introduction picture? No? Nobody? Didn't think so.) Cyrus then followed this by posting a total of six pictures of Bubba Sue, including a couple of her dog, Emu, curiously sniffing around the pig as if wondering what kind of hairless pink playmate dog this is.
Cyrus hasn't had the easiest time with pets this year after the death of her dog, Floyd, which Cyrus took very hard and in tribute of whom Cyrus has a new tattoo. One of many, but still. Even the dog that Cyrus got not long after Floyd's death was eventually sent back because Cyrus couldn't handle having another dog so soon. It's great to see her opening her heart to a new pet, even if it's a completely different species from her last one. Whatever helps her heal can only be a good thing and Cyrus seems to be utterly thrilled with the mini-pig so far.
Bubba Sue might be the cutest member of the Cyrus family now, but Cyrus clearly has no hard feelings about that. In fact, she probably even agrees.
Image: mileycyrus/Instagram