She'll Make You Proud to "Throw Like A Girl"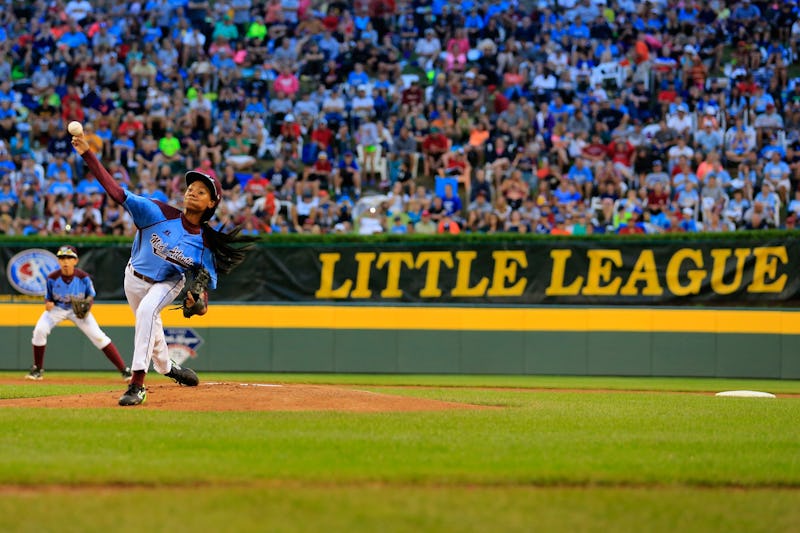 Rob Carr/Getty Images Sport/Getty Images
The next time anyone uses "throw like a girl" as an insult, feel free to drop the name of Mo'Ne Davis, the Little League player from Pennsylvania, and then just walk away since nothing more needs to be said. The thirteen-year-old made history this weekend when she became the first girl to pitch a shutout Little League game, earning her team a spot in the Little League World Series. Davis will only be the 17th girl to play in the Little League World Series its 68 year history.
According to the radar readings at the game, Davis's fastballs were up to 70 mph, speeds that aren't completely out of the ordinary for a pitcher her age, but which also aren't significantly lower than the ones you'd expect from a varsity high school pitcher. And she's only 13.
Davis told the Today Show that she used to play softball, but eventually switched to baseball. And she has big goals, saying "I'll probably either be the first female in the MLB or in the NBA." And we'll definitely be cheering for her to make that dream a reality.
Check her out here:
The first game of the Little League World series is is Friday at 3 p.m. Davis's team, Taney Youth Baseball Association Little League of Philadelphia, will play a team from South Nashville. Among the other teams to qualify for the tournament is another team with a female member: Emily March, who plays for a team from South Vancouver. It will be only the third time that two girls have made the tournament in the same year.
But one thing's for sure: with a pitching arm like this, you can bet we haven't heard the last of Mo'Ne Davis.
Image: sp0rts/Vine