The Most Stylish 9-Year-Old Baker On The Planet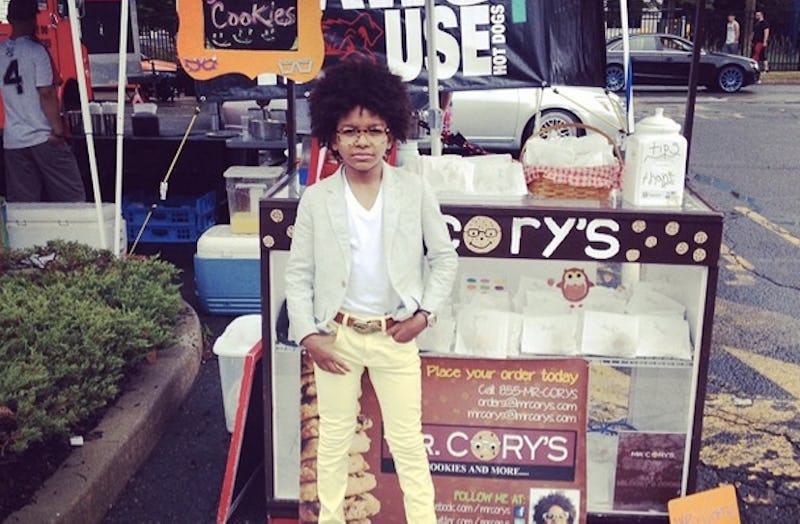 Not many 9-year-old kids can make a delicious homemade chocolate-chip cookie. If they can, it's usually not the kind that boasts all-natural ingredients. But Cory Nieves isn't the average 9-year-old. Before even hitting double digits, he can say that he makes a mean cookie, is the co-CEO of his own business (with his mother, of course), and has more impeccable style taste than most people three times his age. According to BuzzFeed, this sartorial prodigy started selling hot chocolate in an effort to buy his mom a car (insert "awww" here), then Nieves expanded his hot chocolate stand to sell lemonade and cookies as well, and to save their earnings toward his college fund. His business skyrocketed from there, and turned into a full-blown operation from his home in New Jersey.
Other than making delicious, natural, and health-conscious cookies (like the sugar-free oatmeal raisin cookie), Nieves is a mini fashion icon. This can be seen both on the Mr. Cory's Cookies website, but especially on the brand's Instagram, @mrcorys. The young CEO recently was interviewed by Huffington Post about his style — while waiting in line at J.Crew, unsurprisingly. When asked where his favorite stores to shop are, Nieves told his interviewer his love for fashionable retailers Zara, Ralph Lauren, TOPSHOP and J.Crew, but also showed love to more humble and vintage pieces from Salvation Army and thrift shops. Add him to the list of pre-teen kids who are more fashionable than I'll ever be. This little man is a role model for everyone who takes pride in their business skills, their personal style, or their ability to follow their dreams.
Style rules I learned from Cory Nieves, 9-year-old style icon:
1. Every man should own "a suit, pocket square, and a classic watch. If you have that, you're good to go."
2. A simple graphic t-shirt will never be out of style
3. Accessories can make a simple outfit pop
4. Rolled pants and one button left open is perfect beachside chic
5. Blazers dress up a simple jeans and t-shirt combo
6. A light colored suit is a refreshing change, especially when paired with cognac-colored shoes
7. There's nothing like a cable-knit sweater in the autumn
8. Bow ties are cool
9. If you want to wear socks and loafers, make them statement socks
10. Cardigans are your secret weapon for versatility and keeping cozy
11. Just because you're dressing for the weather doesn't mean you can't dress to impress, too
12. A classic bag is just what you need to pull it all together
13. Sportswear can be more than just functional
14. Everyone needs a pair of good sandals
15. You should definitely rock a blazer and shorts
16. Make your glasses more than a necessity — make them a statement
17. Above all, don't be afraid to be you.
Images: @mrcorys/Instagram