Robin Williams Dies at Age 63: Remembering the Actor and Comedian's Life and Career in Photos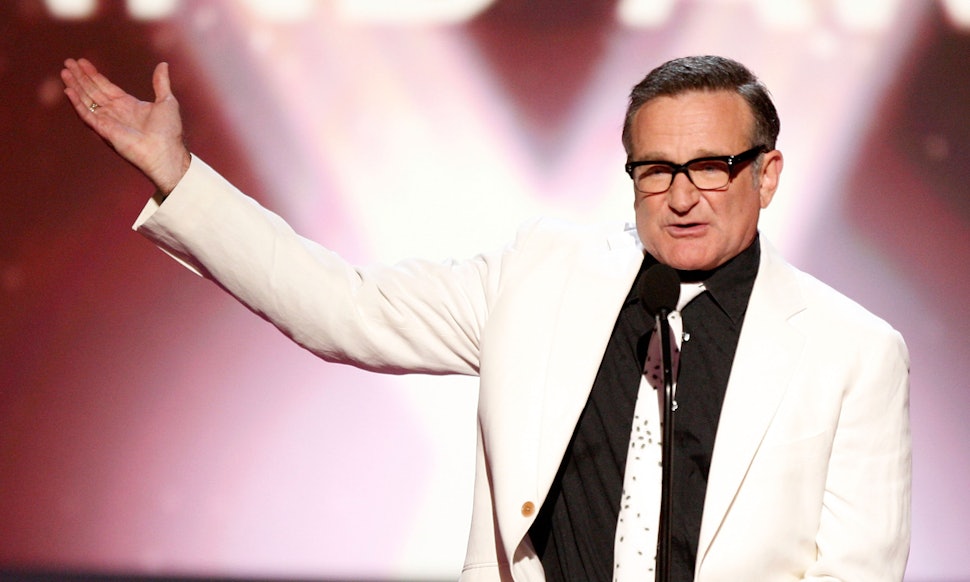 Kevin Winter/Getty Images Entertainment/Getty Images
Oscar-winning actor and funnyman Robin Williams has died at age 63. Williams was discovered in his California home during the morning hours of August 11, dead of an apparent suicide. News of Williams' death comes as a shock as the beloved comedian and actor is best known for being such a bright light in Hollywood. It's especially hard to lose someone who was so beloved for the joy he brought to his fans. Whether he was playing a cross dressing nanny or animated on screen as a genie, Robin Williams' greatest strength was the power of his comedy.
Though we know Robin Williams as a comedian who helped bring laughter to our days, we hardly know him as the man who struggled with depression. A rep for Williams confirmed the news and said that the actor was "battling severe depression of late".
His comedic genius will be sorely missed. In his honor, we take a fitting look back at Williams' most colorful moments throughout his life and career.
Robin Williams and Susan Schneider
Williams' wife Susan Schneider released a statement following the news of her husband's death. "This morning, I lost my husband and my best friend, while the world lost one of its most beloved artists and beautiful human beings. I am utterly heartbroken," she wrote.
Robin Williams in 2002
Though he's known for making the world laugh, Robin Williams has been outspoken about his struggle with depression. Just last month, Williams was back in rehab for alcoholism.
Robin Williams in 2001
Robin Williams shares a laugh by cell phone with Kathleen Gagliardi, wife of New York City Police Lt. Gary Gagliardi who is working at ground zero Sept. 17, 2001.
Robin Williams
Robin Williams and Billy Crystal
In true form, Robin Williams and Billy Crystal share a belly laugh in 2004.
Robin Williams in 2004
We really weren't kidding about that whole "power of laughter" thing.
Robin Williams in 2009
The funnyman jokes around behind Adam Sandler's back at the 2009 People's Choice Awards.
Robin Wiliams in Mork and Mindy
Before Robin Williams' wildly successful films in the '90s, the world knew him as Mork, an alien who befriended Mindy.
Robin Williams in Good Morning, Vietnam
Just looking at this photo you can hear him saying "Goooood morning Vietnam!"
Robin Williams in Flubber
If Williams' manic comedy was ever on display, it was during his stint as a mad scientist in Flubber.
Robin Williams in House of D
Robin Williams is photographed on set of House of D in Central Park in Manhattan in October 2003.
Robin Williams in Good Will Hunting
There are many lessons to be learned from Robin Williams, especially in Good Will Hunting.
Robin Williams in Hook
Robin Williams in Dead Poet's Society
Robin Williams played these boys' "Captain" in the 1989 film Dead Poet's Society.
Robin Williams in Mrs. Doubtfire
Robin Williams in Patch Adams
Robin Williams fully embodied Dr. Hunter "Patch" Adams in this semi-biographical comedy.