Remembering Robin Williams In An Underrated Role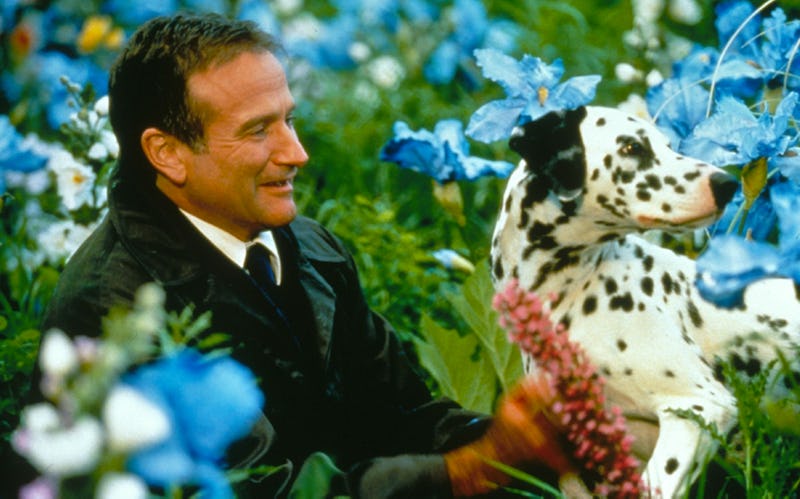 Of the many beloved titles in Robin Williams' filmography, What Dreams May Come is rarely praised. Of his films, it's one of the most divisive, and one of the most frequently ignored. It only has a Rotten Tomatoes rating of 54 percent, after all. But it's also one of the ones I've seen the most. And after his death Monday, it's one of the ones that might prove the hardest to re-watch. So let's talk about What Dreams May Come — what it means to me, what it means to the world, and where it stands in Williams' legendary career.
Though I wasn't versed in Williams' offscreen mental state when I first saw What Dreams May Come — on VHS, way back when — in hindsight, it makes painful sense why Williams would sign on for the project. What Dreams May Come, after all, builds itself entirely around depression.
Where What Dreams May Come stands out, though, isn't in its topic — plenty of movies deal with the crushing pains of depression. No, it's the way this film balances its heartbreaking subject matter that stands out — it's what leads me to endless re-watches, and though I don't have access to Williams' thoughts, it's what I suspect led him to sign on to play the lead role. This film, much like Williams' life and career, juggles the horrors of a mind in torment with the ecstatic joys of art and life.
For a film whose plot revolves entirely around life's pain, it's hard not to marvel at its commitment to depicting beauty. I am not here to argue that What Dreams May Come is the best of Williams' movies — in my opinion, it's not. The mythology is alienating and filled with Catholic dogma. Cuba Gooding Jr. as Williams' character's son was...an interesting choice.
And yet rarely has Williams had so much feeling; he was a man whose performances were known for being in no short supply of that.
A quick recap: Adapted from a novel of the same name by Richard Matheson, the film follows a family who loses, in quick succession, two children (car crash) and then the husband (Williams, whose character dies in another car crash, saving someone else). The wife (Annabella Sciorra) is already suffering through depression following the death of her children, and the loss of her children sends her over the edge. Williams' character, in a sort of painted heaven, watches as she commits suicide, then sets out to reconnect with her soul and bring her back from the darkness.
It should be obvious why, when news started spreading that Williams had likely killed himself through asphyxiation, my mind traveled pretty quickly back to this movie. Williams' battles with depression were long, public, and heartbreaking — they also can't be summed up in a single movie he made 16 years ago, nor should they be. I will never meet Williams to ask him his thought process throughout making this movie. And yet What Dreams May Come remains startlingly, horrifically relevant.
Yet I have, somehow, seen this movie many times. Maybe it was on TV, maybe my family just hung onto the VHS long past its time, maybe it provided something when friends and family members were going through depression, or when I took brief forays into it myself. Maybe it was just there. Maybe it was just really pretty, the kind of brightly decorated comfort blanket only movies you were introduced to in your childhood can become. Roger Ebert gave it 3.5 stars and wrote that it was "breathtaking, so beautiful, so bold in its imagination," so it can't be as bad as the 54 percent Rotten Tomatoes rating may suggest.
I don't know what this movie means in the grand scheme of Robin Williams, but now it feels like I'll never stop thinking about it.
Image: PolyGram Filmed Entertainment