15 Stages of Choosing Your Back To School Outfit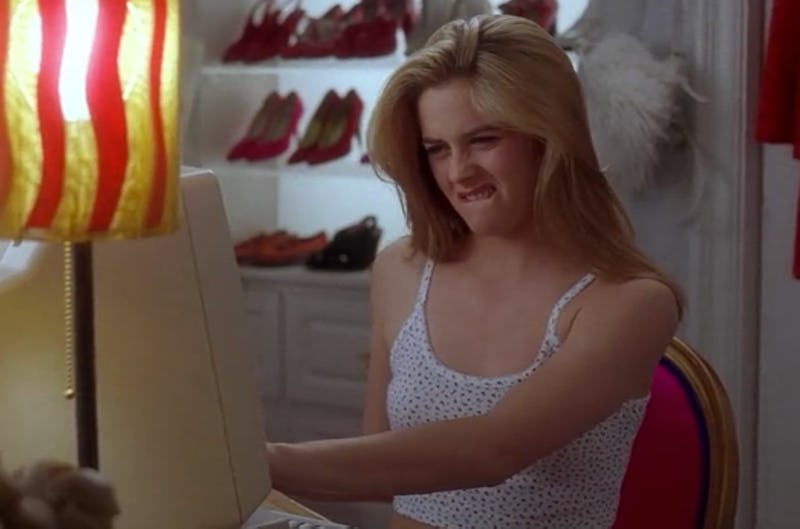 Much to the chagrin of, I don't know — everyone— summer of 2014 is rapidly drawing to a close. Yes, my friends, the eve of back to school is upon us. This means wrapping up your summer reading, mentally preparing yourself for nine straight months of cramming and tests, and finalizing your ensemble for that all-important first day of the new academic year. Even as you mature through the grades, choosing your first day outfit for back to school is a ritual that never quite loses its significance. The stages of this process seem to repeat themselves in the same sequence each September, accompanied by the same problems, the same delights, and the same conundrum of having so much clothing but still nothing to wear.
No matter how grizzled, world-weary and jaded you become throughout the years of school, the "first day" outfit will always be something that you're compelled to put a bit of thought into. For better or for worse, this sacred event is your ticket onboard an emotional roller coaster of style joy and frustration. First of all, playing dress up and trying on the entire contents of your closet is always a fun project. Second of all, this is when you can actualize all of your fashion & beauty resolutions! However, it always seems like there is nothing right within your hulking wardrobe. You can always go shopping, it's deceptively simple to break your back under the burden of choice. You'll wind up crying in the Forever 21 fitting room, the embodiment of first world problems.
So, before you embark on your style journey of selecting that first day back outfit, let's reflect on the emotional stages brought on by the process.
What a fun project, I get to try on ALL MY CLOTHES
This fashion show for yourself isn't exactly going as planned
You have so much clothing, but still no separates that match
All right, time to face the simple fact that nothing in your closet is first-day feasible
Online shopping is the only solution that doesn't require leaving the house
And you've found the perfect thing
But wait, if it doesn't fit you're totally screwed
Your mission will require a trip to the mall
The mall = the land of opportunity
You could try on clothes for hours . . . This was a great idea
Ugh, damn this place to the depths of Hell. Nothing is working
Your mission is doomed to failure, and your first day outfit will be a disaster
Just try one more thing, and if it doesn't work you'll spend your first day in the nude
Hark, it's the answer to your prayers . . . Everything you've been looking for
Hey there, world . . . get ready for the new me
You've earned your charm-bomb status. Look out, universe, the new and improved you has entered the building.
Image: Paramount; Giphy (13); Global grind; Awesomely Luvvie