Where Have You Heard T. Swift's New Song Before?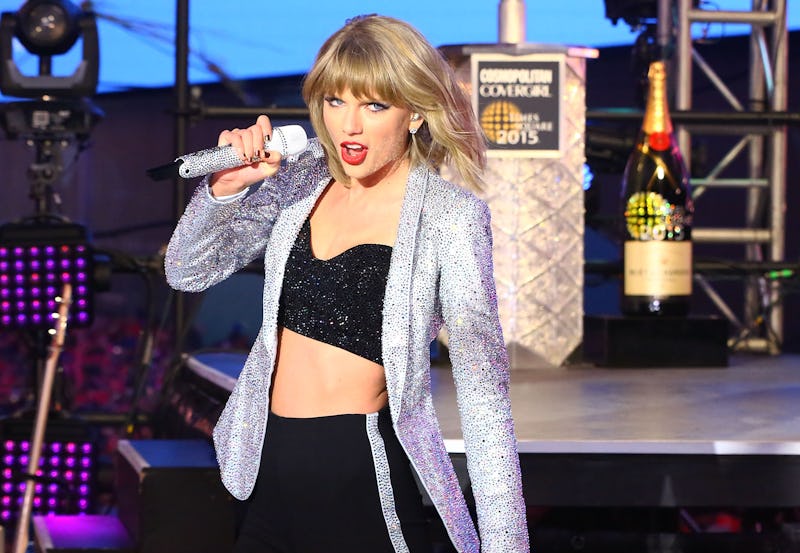 Astrid Stawiarz/Getty Images Entertainment/Getty Images
The world officially has a new "eff the haters" anthem. And yes, it comes to us courtesy of Taylor Swift. And yes, "Shake If Off" sounds a little bit...familiar. It looks a bit familiar, too. So let's take a look at what it is about Swift's new single that gives us a good sense of deja vu. Is it because it's got all of upbeat modern pop behind it?
It should be noted that Swift's recycling of pop staples isn't necessarily a bad thing. Cliches are often cliche for a reason: People like them, and therefore repeat them. Whether or not lyric fragments or stylings from this song and video call back to or take from songs that came before it isn't going to stop its ability to make you — in the immortal words of Jason Derulo — wiggle. Modern pop isn't really about originality.
For people like Swift it's about reaching her audience — and her audience already knows what it likes, and it's a lot of stuff they've heard before. And hey, Katy Perry's "Roar" and Sara Bareilles' "Brave" have a lot of similarities, but that doesn't mean they're not both worthy of blasting under the right circumstances.
But this is a place of pop cultural analysis. And so with a new Taylor Swift song, our mission is clear: To look very deeply into it, and to take note of what we see. In the case of this particular song, that means digging through the lyrical similarities to other pop songs of the recent and far-off past.
First, Swift's video:
"Can't stop, won't stop"
Recent use of note: Miley Cyrus, "We Can't Stop."
Pretty straight-forward: Neither Cyrus nor Swift have the ability to stop.
"Shake It Off"
Recent uses of note: Mariah Carey, "Shake It Off"; Florence + the Machine, "Shake It Out"
The latter is "Out," not "Off," but they're both anthems for the cathartic shaking out/off of one's troubles. So.
Mariah Carey's song is pretty different from both of them:
The "Dancing On My Own" Theme
Uses of note: Robyn, "Dancing On My Own"
The concept of dancing on one's own — or, say, like no one can see you — isn't owned by any one person. Swift's just gonna shake, they're both gonna dance on their own, and Lee Ann Womack just wants everyone to dance in general.
"Players Gonna Hate/Haters Gonna Hate"
Use of note: 3LW, "Playas Gon' Hate"
The lines "playas gonna play/haters gonna hate" is in both songs — though Swift's repeats the last word of each refrain more than 3LW does — and I wouldn't be at all surprised if it was a conscious reference as opposed to some sort of thievery. But I'm not in Taylor Swift's brain, so who the hell really knows? Maybe a former 3LWer with speak out against Swift in the coming days and we'll have a fresh feud on our hands.
That cheer break
Use of note: Avril Lavigne, "Girlfriend."
The break in songs when ladysingers do the thing that's not quite talking, not quite singing, not quite rapping — it's really more of a cheer of some sort — could probably be considered a song styling all its own. But when Swift took a cheer break towards the end of the song I was immediately reminded of "Girlfriend."
Swift has ascended, friends. The girl in the bleachers has been promoted to head cheerleader. And she's got pop history on her side.
The General "Screw The Haters"
She's not the first, sure — but this one still feels purely Swiftian:
Images: Big Machine