How Much Does The 'Below Deck' Yacht Cost? Unless You're Seriously Loaded, Think Again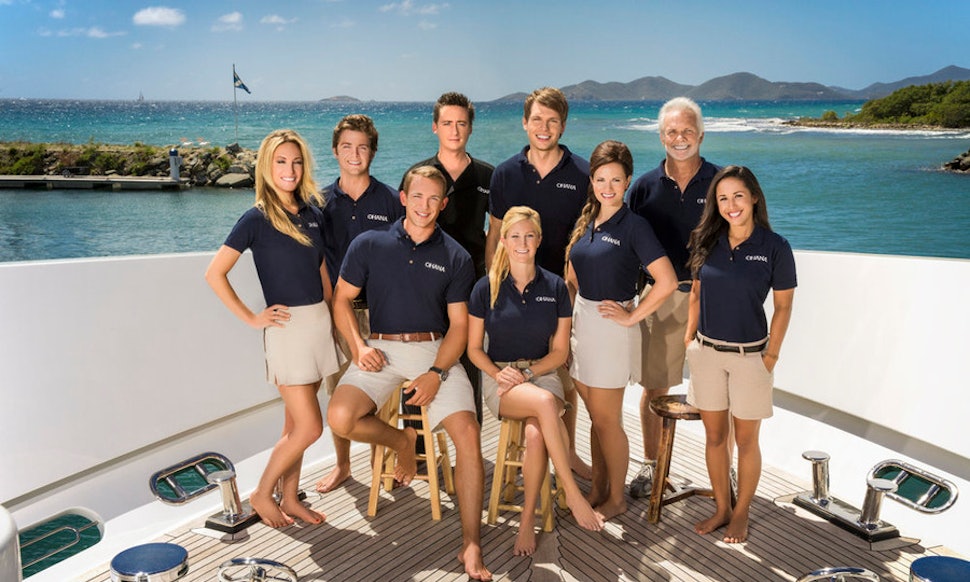 Below Deck is perfect escapist television. You get to enjoy the boat, all the beautiful scenery, and judge the charter guests for being total rubes who don't know how to appreciate Ben's fine dining. But the best part by far is how swagged out Below Deck's luxury yacht Ohana is. As we all learned from the underrated Lilo and Stitch, ohana means family, but on Below Deck, it means a dozen bedrooms, full chef's kitchen, and a hot tub.
While that tantalizing description is more than enough to sell you on that yacht, it'll be a pretty hefty chuck of change before the owners of the Ohana will sell it to you — or even let you book a charter. Seriously, with all these amenities, the price will absolutely shock you.
Image: Tommy Garcia/Bravo
WiFi on Board: $800
Perfect for posting dozens of Instagrams about how flipping baller you are for owning a luxury yacht. Or, alternately, perfect for the workaholic who doesn't have the time to really vacation this year but wants to check out those quarterly reports with a stunning sunset in the background. But a digital yacht internet system isn't so expensive, all things considered.
Image: Virginia Sherwood/Bravo
Air Conditioning: $2,300.00
Balmy ocean breeze not enough to keep you cool? Well, the Ohana comes equipped with A/C, so even the sweatiest millionaires can sit inside and pretend the icy wafts of air are coming from far off trade winds instead of a vent in the wall.
Image: Virginia Sherwood/Bravo
Chef's Kitchen: $7,500.00
A private chef has to have his tools in order to make you delicious gourmet foods. Stick him in a tiny room with a hot plate and a microwave and you'll be eating like a college freshman for the whole summer. Kitchen appliances for a yacht galley like this one get expensive, but most of the cost will end up wrapped into the overall cost of building your mega-yacht.
Image: Virginia Sherwood/Bravo
Fancy Staircase: $10,000.00
The stews were shocked to see the central spiral staircase leading to each level in the yacht. That's a feature common on much larger boats. And according to this yachting forum (yep, that's a thing), even a five foot staircase can cost two thousand bucks.
Image: Virginia Sherwood/Bravo
Jet Skis: $20,000.00
Something sporty and active for those who actually want to enjoy being on a boat while boating. Doesn't mean it's any cheaper than the stuff for the indoor kids, though.
Image: Virginia Sherwood/Bravo
Hot Tub: $30,000.00
There's something so… wealthy about being able to lounge in perfectly heated water while engines propel you across the most naturally beautiful oceans in the world. Obviously, you'd want the hot tub custom made, so price is hard to nail down, but the hot tub cost will be at least in the tens of thousands.
Image: Bravo (Screengrab)
Flat Screen TVs: $40,000.00
Every bedroom comes with its own huge flatscreen television, as do the main hangout areas. It's still not possible to get cable out on the open seas, but with that internet connection you can easily put on some Netflix.
Image: Virginia Sherwood/Bravo
Room for Ten Crewmembers: $2,000,000.00
While the Below Deck crew rely on those tips to make the season profitable, they each pull in a reasonable salary that varies between two and ten thousand per month — and as the owner of the yacht, you're footing the bill. It's that or wait on yourself, which is obviously not going to happen. You didn't buy a yacht to make yourself dinner!
Image: Virginia Sherwood/Bravo
Final Price: About $10,000,000.00
While the Ohana was on sale for 9.9 million back in 2010, it's been well maintained and renamed the RHINO by its owner… and while he doesn't seem interested in selling (though you can charter the RHINO for around 140 grand), one of many yachting websites — which are pretty widespread (who knew?) — lists the value of the former Ohana at about $10 million. That's one serious price tag, but with so many fancy accommodations, it's not much of a surprise, is it?
Image: Bravo (screengrab)