These Are Quite Possibly The Most BA Vegan Glosses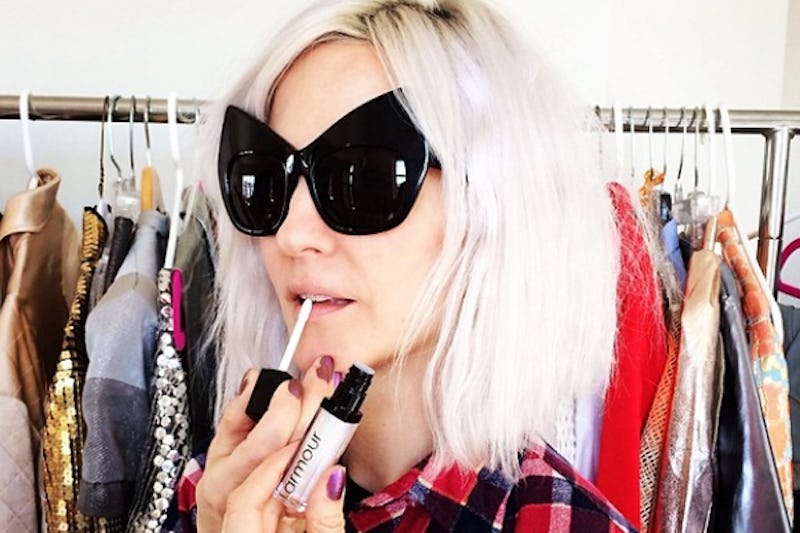 One of my all-time favorite indie and cruelty-free beauty brands just won my heart even more with the creation of a brand new vegan lip gloss. Swoon! Theo Kogan launched the lip gloss-only, rock 'n' roll inspired beauty line Armour Beauty a few years back and I've been in lurve ever since. I truly believe your lip gloss reflects your personality — and reflects lots of light with shimmer and shine, of course. Armour Beauty does all that and more for rocker chicks, such as myself.
Kogan, the tattooed and gorgeous former singer of NYC punk band The Lunachicks, created her naturally-based, cruelty-free glosses because she wanted them to last through a gig. The brand offers shimmery and opaque formulas, which are named after rockers, songs, and beauty icons, from Led Zeppelin to Grace Jones. Now there are totally vegan versions, called "Armour V."
Since I have tattoos, wear more black eyeliner than Joan Jett, and work in the music biz, a rock 'n' roll-informed beauty line is like waking up from a dream and finding out that it wasn't a dream but a shiny, glossified, smells good, and kissable reality.
I also want to note that there is a difference between punk rock or rock 'n' roll and gothic styles in the beauty realm, but I often see them interchanged. IMO, rock 'n' roll looks usually (but not always) mean heavy and dark eye makeup paired with light, gloss-glazed lips, whereas goth is most often comprised of vampy shades and matte, flawlessly painted lips held in check with liner.
Armour's newest totally vegan shade Brigitte is a creamy, peachy-pink lip gloss named after and inspired by animal rights activist and French stunner Brigitte Bardot. I cannot wait to wear it.
Armour's Nirvana lip gloss is a sheer pink with sparkle. Make that all the sparkle you could ever want or need, without being glittery. It is one of my gloss Holy Grails. The formula is moisturizing and not sticky, but it has this vanilla-grapefruit scent that's more crisp than sweet.
All the products are loaded with rich oils, are free of nasty, chemically stuff like parabens, and they are never, ever, tested on animals. It baffles me that animal testing is still happening, TBH. Ugh.
Kogan created the line so she could fill a beauty void. She needed gloss to stay put while performing, doing photo shoots, and engaging in other general rock star activities and pursuits. How does that translate to those of us who don't perform for a living? Beautifully, actually!
Applying a fresh coat of gloss after activities, such as eating or, like giving a speech, or after making out with your SO, is fine, but all the time? No fun for us gloss girls.
Kogan herself offered me some suggestions on how to wear Armour products, noting that you don't need multiple or ancillary products like liner, saying, "Some people like to put on a lip balm first. Some like to use a lip liner. But to me, our gloss is all you need! Swipe it on and go and get ready for the compliments."
But that's not all. Kogan also recommends customizing your color. "We also encourage mixing our shades, such as adding any of our shimmers on top of an opaque to create a more metallic look or every a new color," she suggested. "And for you, with Nirvana, you could swipe in over a bright lipstick and create a shiny glossy new shade."
Also, for you goth girls, who I mentioned earlier, two new, fall-appropriate Armour V shades are on the way. Hi-Way Star, a deep blue purple that wears like a buttery lipstick, and Funhouse, a lollipop-like, opaque rapsberry shade, are coming on October 1.
Images: Armour Beauty/Instagram (2); Armour Beauty (2)