The 12 Most Romantic Wedding Song Lyrics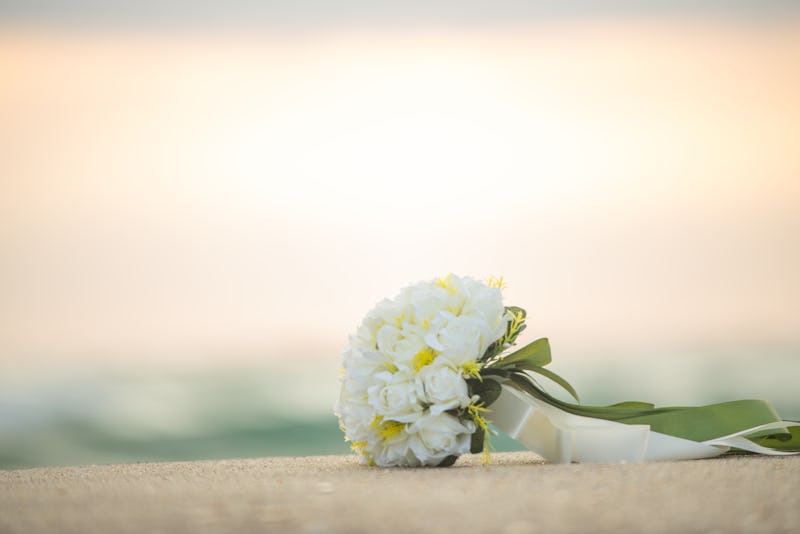 The first-dance song you slow-dance to at your wedding will play a big role in creating a moment that you, and your friends and family, will remember for the rest of your life. You don't want it to be a throw-away tune, or something that's been done too many times before, though classics are great. So if you're looking for a first-dance song that's romantic, profound, and just the right mix of classic and unexpected, these famous tunes about marriage are perfect.
Beyond being great for weddings, these lyrics embody a lot of truths about being married, some hard and some delightful. It seems like the prospect of being with the same person for the rest of your life brings out both the best and the worst in us. And if you want to make an old-school mix of romantic songs to play, these will make lovely mood music.
1. Truly Madly Deeply, Savage Garden
Who can't admit to humming along to this super-earnest mid-tempo ballad in the 90s? I definitely had this album on cassette tape and I am not ashamed.
2. Love Song, Miranda Lambert
Often love is just wrapping arms around someone and telling them it's going to be okay.
3. The Wedding Song, Bob Dylan
Dylan doesn't have a lot of straight-forward, romantic lyrics, but this is one of the best examples.
4. Maybe I'm Amazed, Paul McCartney
These gorgeous, simple lyrics show deep appreciation for the one you love.
5. Keep On Lovin' You, Reba McEntire
From the album Keep on Lovin' You
McEntire sings about the turmoil of relationships in relatable language, because she's been through it all only to learn that it's the hardships that make a union stronger.
6. Stay With You, John Legend
When Legend croons these romantic lines, they sound extra sweet and convincing. I'm not saying they're the reason Chrissy Teigen fell in love with him, but they couldn't have hurt.
7. Halo, Beyonce
From the album I Am... Sasha Fierce
It's not easy to trust someone whole-heartedly when you've been hurt. Beyonce tells the story of overcoming that and falling in love.
8. Let's Stay Together, Al Green
From the album Let's Stay Together
These classic lyrics from 1972 still ring true today.
9. Forever, Ben Harper
From the album Welcome to the Cruel World
Forever should be forever.
10. Mushaboom, Feist
Feist ruminates on the quotidian beauty of married life.
11. Anniversary Song, Cowboy Junkies
From the album Pale Sun, Crescent Moon
Wanting to experience the world with another person, and through their eyes ... now that's love.
12. The Luckiest, Ben Folds
From the album Rockin' the Suburbs
What a passionate take on "'til death do us part."
Images: Fotolia