Women in the Major Leagues?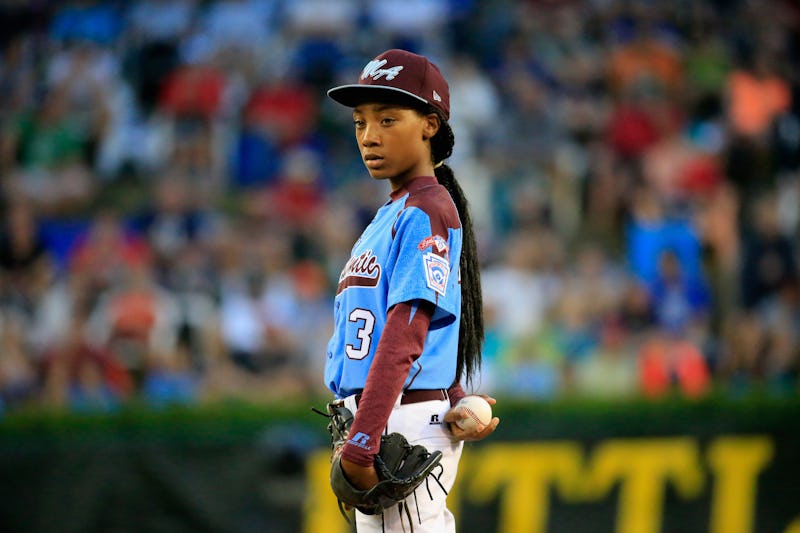 Rob Carr/Getty Images Sport/Getty Images
I love this girl. By now, you've almost definitely heard about Mo'Ne Davis, the slick-slinging right-handed pitcher and third baseman from South Philadelphia playing in the Little League World Series. She's burst onto the sports scene and the national consciousness, and it's renewed discussion about a familiar topic — when will a woman break the gender barrier in an all-male pro sport? More specifically, could a woman play professional baseball?
Davis' status as a bonafide sports hero at age 13 is about a lot more than the fact that she's a girl — she's landed herself on the cover of Sports Illustrated behind a 70 mile-per-hour fastball and a confident, charming attitude. As she famously said when asked to describe her pitching style: "I throw my curveball like Clayton Kershaw and my fastball like Mo'ne Davis."
For some perspective, Clayton Kershaw is literally the best starting pitcher on the planet right now, and according to The Wall Street Journal, Davis idolizes the Los Angeles Dodgers superstar. Which just goes to show, when Mo'Ne aims, she aims high.
As it happens, she's not dreaming of a Major League Baseball future — at least, that's not what she says her big dream right now is. Rather, she wants to head to the University of Connecticut to play for their women's basketball team, which is arguably the most dominant collegiate women's hoops program in American history. But the focus on baseball's gender barrier is understandable, because, really, it seems like the most logical sport to see it fall.
It Probably Won't Be Basketball
As a practical matter, there are unavoidable physical challenges that the two other major American sports (basketball and football) would pose to a woman hoping to break the barrier. Women don't tend to grow as tall as upper-echelon male NBA stars do (although there are plenty of stars well within the height range of your average WNBA player, so it's not prohibitive).
And beyond height, the discrepancy in athleticism between male and female pro-basketballers, to this point, is still pretty wide. Again, this doesn't mean it's impossible — plenty of male players are overmatched athletically but still manage to flourish in the NBA, and young, athletic WNBA stars like Brittany Griner are starting to bridge that gap — but it would definitely be a steep climb.
Nor Football
So too for football. The enormous size of NFL players, not to mention the grindingly violent nature of the sport, would be a staggering challenge for a female player to overcome.
Though it's been done at the college level before — former New Mexico kicker Katie Hnida, for example, who's now an advocate and speaker against sexual assault — the barrier's never really come close to being breached at the NFL level, and it's hard to imagine seeing a female non-kicker on the pro gridiron anytime soon (shout-out to Shelby Osborne, though, who'll be the first female non-kicker to play for a 4-year university this year). Not that I wouldn't love to, nor to say the sport is easy for men — the current concussion crisis attests to that.
But Then There's Baseball
But in baseball, that old national pastime, the road seems so much clearer, especially with an all-around athlete like Mo'Ne Davis to show us all the way. Rather than a constant barrage of enormous bodies banging into each other like the other two sports, baseball is a game of skill, reflex, and precision, which discriminates far less on the grounds of muscle, height or shape.
It's what makes the major leagues seemingly more meritocratic than some of its competitors — you can be a rail thin fireballer like Chris Sale, a heavy-set slugger like Pablo Sandoval, or even a one-handed pitcher like inspirational former Yankee Jim Abbott. As long as you get the job done in those fleeting few seconds of action each play, you're in the starting lineup. Nor do you need to be a bruising, power-player at the plate — teams always need some svelte speedsters just the same.
And with the example of Mo'Ne Davis, who at 13 is already slinging a fastball at 70 miles-per-hour, and playing third base, too boot, it's not hard to imagine — kind of easy, actually — a woman competing and thriving at the highest levels of the baseball world.
But There's Still A Stigma
That's not to say that everybody would be happy about a woman in the major leagues. While we might not be able to say how fellow players would react, Mets broadcaster and former player Keith Hernandez damn near threw a fit when he saw Kelly Calabrese, a female trainer, in the San Diego Padres dugout several years back. It was pretty odious:
Who is the girl in the dugout, with the long hair? What's going on here? You have got to be kidding me. Only player personnel in the dugout. ... I won't say that women belong in the kitchen, but they don't belong in the dugout.
In that kind of comment, frankly, you can see easily why Davis and her overt excellence on the diamond is proving so inspirational and exciting to so many people: there are always people who think sports are better off as an old boys' club, and that all you ladies should just step to one side. If for no other reason than to shut those people up, we're all rooting for Mo'Ne Davis, and any girl or woman who isn't willing to take a back seat.
Davis made it clear in an interview with ESPN that she's a little bothered by all this attention, even as she understands it, because she feels like her team is the reason she's getting this exposure, not herself alone. So in that spirit, I'll tell you that her team, the Taney Dragons, are playing against a talent-stacked Las Vegas team Wednesday night — and yes, she's expected to pitch. So watch, and hopefully cheer your hearts out.