Henry Is Getting A Love Interest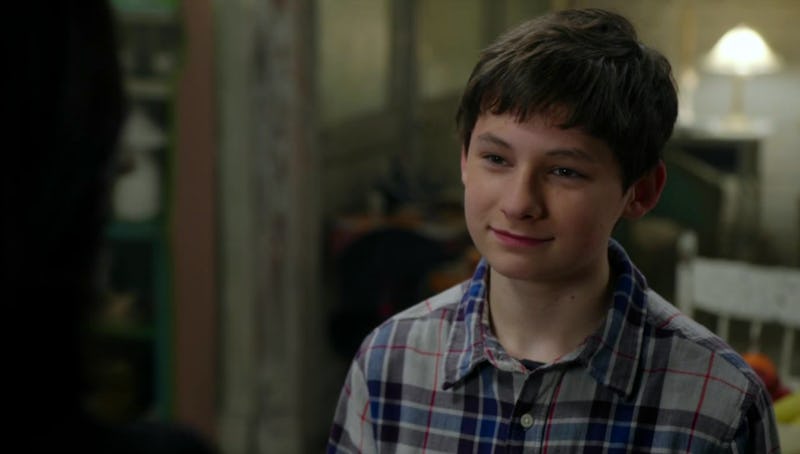 Kids. They grow up so fast, don't they? One minute Henry from Once Upon a Time was playing on his gigantic castle playground, reading his fairytale book, and the next he's out and about in the world, fighting off evil witches and gaining a potential new romantic relationship. That's right: According to a spoiler from E!, Once Upon a Time 's Henry is getting a love interest. According to the spoiler, Henry may develop some romantic feelings for a girl named Lily, who is yet to be cast by the ABC drama. E! reports Lily is a charming teen with a punk exterior that hides the "heart of a secretive, insecure opportunist." Watch out, Henry: It doesn't look like this maybe-romance will end well.
We know who Lily will be in Storybrooke, but given that most of the characters on the series have a dual identity (for example, Mary Margaret is Snow White in the Enchanted Forest) there's a chance that whoever Lily is in Storybrooke isn't the whole story. Given the limited amount of characters who don't have a double life, it stands to reason that Lily is probably someone with a fairytale past. Now the only question is, who could she be? Here are some ideas for who Lily could have been in her past life.
Tiger Lily, Peter Pan
In Disney's Peter Pan, Tiger Lily is a Native American princess. She has no spoken lines in the animated film (a whole issue unto itself) but is depicted as brave and proud. Given Once Upon a Time's continued use of characters from Neverland, it's possible that Lily comes from that way as well. She may be a friend (or a foe) of Captain Hook, which is funny given the similarities in the description of Lily and the characterization of Hook. One clue that Lily could be Tiger Lily is the spelling of the name — both have only two L's as opposed to three. One suggestion for Lily? If the character is supposed to be a Native American princess, cast a Native American actress .
Merida, Brave
Merida is one Disney princess who has yet to make her way to Once Upon a Time, and given her age, she certainly could be an appropriate crush for Henry. Merida is certainly rebellious, and it appears that Lily is as well. Once Upon a Time has a knack for shifting perspectives on characters, so while Merida may be the heroine of Brave, she doesn't necessarily have to be a strictly good person on OUAT.
Ariel's Sister, The Little Mermaid
Ariel is the youngest mermaid in the animated film, but there's no reason to assume that Ariel is the youngest mermaid in her family on Once Upon a Time. Perhaps Ariel's sister makes her own land debut in Season 4 of the series, only to stir up trouble for her older sibling.
Meg, Hercules
Meg is an adult in the Hercules film, but her age could easily be adjusted for Once Upon a Time. Meg fits the bill for the character description of Lily. In Hercules, Meg is charming and witty but hides a massive secret: She's working for Hades in order to pay back the debt she owes him for saving her boyfriend's life. Meg is clearly an opportunist, and though her story would need tweaking in order to become appropriate for the OUAT universe, it's clear that she has many similarities to Henry's potential crush.
An Evil Stepsister, Cinderella
Cinderella's stepsisters aren't exactly the most charming of ladies in the animated film, but they are opportunists. We haven't seen much of Cinderella on Once Upon a Time, but if she does return, she may bring back an evil sibling along with her. Could that evil sibling be not-so-evil after all and just severely misunderstood? It wouldn't be the first time that OUAT turned the tables on an established fairytale character.
Images: Disney