Dancing, Roses, & Tributes: The Ferguson Protests Had Another Side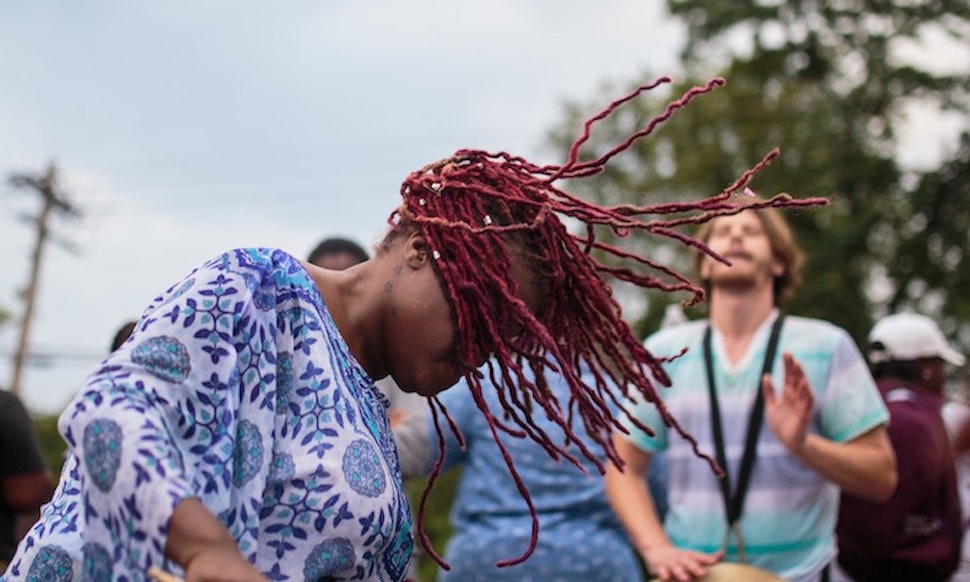 Yes, there's been looting, violence, and heavily armed police on the streets of Ferguson, Missouri, over the last two weeks — but there's been much more to the protests than that.
Music, family, and dancing have all played a part in the protests. Many families have brought children, and protesters have placed roses around the conflict site. The place where Michael Brown died has been turned into a makeshift memorial. And while it's certainly true that police have been an armed, omnipresent force, there's much more to the protests than their role in it.
Coming Together
The protests in Ferguson have drawn people from across the St. Louis area, including Lily McLeod and her boyfriend, Joshua Bland.
"It's a crying shame that not all of us can get along," Lily said.
Roses On Protest Site
Protesters have carried and placed roses around the protest site.
Peaceful Protests On Aug. 14
On Aug. 14, Ron Johnson of the Missouri Highway Patrol took over from local law enforcement, marking perhaps the only day of peaceful protests without violence or police aggression.
Unfortunately, the peace was short-lived.
Mike Brown's Memorial
The site of Mike Brown's death has been made into a makeshift memorial, with more memorabilia added each day.
Drums, Singing, And Music
A woman dances to the beat, her hair whipping back and forth.
Ferguson '14
The QuikTrip convenience store that burned down shortly after Michael Brown's death had been a gathering point for protestors, who painted graffiti over much of the exposed surfaces.
Since last weekend, a fence has been erected to keep protestors out.
QuikTrip
Before police blocked access, the QuikTrip was a central site for protesters.
Signs Pepper Ferguson
Homemade signs like these have been ubiquitous in Ferguson.
Florissant Avenue
Before police started blocking traffic on Florissant Avenue at night, the streets were filled with protesters and drivers who'd bring their vehicles to the street to show support.
The honking cars and trucks are now gone, but the protesters remain.
Chalk Tributes
Chalk drawings and other graffiti lined the burned-down QuikTrip until early this week, when the property was fenced off and the graffiti spray-painted over.
Ferguson Police Station
Protestors have gathered in several areas outside in the neighborhood where Michael Brown was shot, including at the St. Louis county courthouse and the Ferguson city hall. This protest took place at the Ferguson police station.