Chill Out & Eat Your Milksteak, 'Sunny' Fans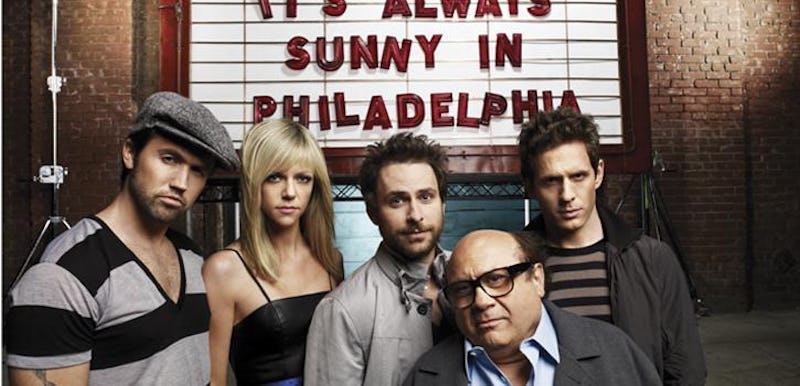 After nine years of the best crude jokes, gross-out gags and strange moments, It's Always Sunny In Philadelphia continues to prove that it still has so much more humor to give. The gang will be back for January 2015, but contrary to the continual fear swirling among fans, Season 10 won't be It's Always Sunny's last. FXX picked up its flagship series for two more seasons, putting the show's run at 12 years. The network has also given the creator and writers of the show — Rob McElhenney, Glen Howerton and Charlie Day — a straight-to-series pickup for their new show starring Tracy Morgan.
Before the pickup was confirmed, the show was thought to be ending after season 10 as the guys' previous deal with FX and FXX was at its end. And in a Rolling Stone interview Glen Howerton made things worse as he was quoted as saying season 10 would be the end of It's Always Sunny . The actor and writer later tried to clear up the rumors by saying the article featured a misquote and that he was trying to say that the gang was only signed on through season 10, but they could easily do more seasons after that.
So now that we know our twisted yet beloved show is safe for a few more years, why not take a look back at some of its best moments? This is by no means a comprehensive list, but it still encapsulates why this crazy, dark and hilarious show continues to work season after season.
1. The Waitress Is Getting Married
When Charlie finds out the waitress is engaged, the gang tells him to meet new people and start dating again. It doesn't go well as Charlie mispronounces his fake job (full-on rapist instead of philanthropist) and orders his infamous milksteak at dinner.
2. Kitten Mittens
Paddy's Pub: Home to this phenomenon.
3. The Gang Cracks The Liberty Bell
Going back to the time of The Revolutionary War has never been so much fun.
4. Underage Drinking: A National Concern
The gang decides to make Paddy's Pub a safe haven for kids to drink underage but that leads to the gang acting like they're back in high school. Adults are more idiot than children, people.
5. Mac Is A Serial Killer
Proving the show could be darker than anyone imagined.
6. Who Got Dee Pregnant?
An uncomfortable and hilarious half-hour of television as we all sat in fear that Dee and Dennis may have had sex.
7. The Nightman Cometh
The creme de la creme. Charlie's epic musical written specifically for the waitress was the biggest train wreck masterpiece that has ever existed on the stage. And it started out of an equally creepy rock song.
Images: FXX; contaminateddirt/Photobucket (gif); theganggetsablog/Tumblr; elliehawking/Tumblr; iwantedtobreathsmoke/Tumblr; marvelfrye/Tumblr