'Hart of Dixie' Is Casting An Obstetrician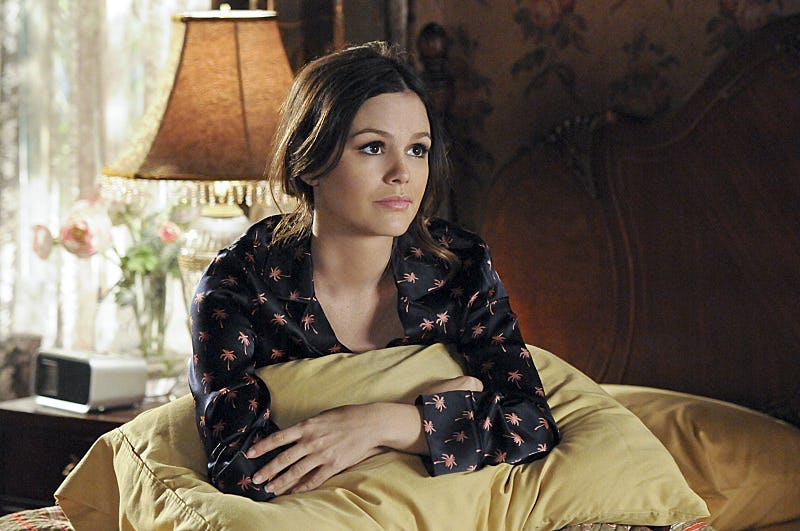 Zoe Hart's having a baby and Bluebell's preparing accordingly. Back in July, The CW announced that Hart of Dixie Season 4 will address Rachel Bilson's pregnancy and fans collectively cheered and panicked. How will that do it? Will there be a paternity saga? How will they fit it all into only 10 episodes? And while the series has yet to answer any of the big questions we have for Dixie — including the biggest one: When will Hart of Dixie Season 4 premiere? E! Online's latest casting news for the series hints at the possible timeline of Zoe's pregnancy in Season 4.
According to E! Online's casting scoop for Dixie Season 4, the series is looking for "a female obstetrician in her 40s for Episode 6 " who's described as "a complete professional." While this news doesn't give much away in terms of the character herself, it does give fans a few possible timelines for Zoe Hart's impending pregnancy. Which is something we're all dying to know, considering how most major details of Season 4 are being kept under wraps. It's also definitely promising that the series isn't going to have Zoe trying to deliver her own baby — even though we all know that she's absolutely going to micro-manage that situation.
Having the obstetrician debut more than halfway through Hart of Dixie Season 4 opens the baby arc up to these 3 potential timelines and confirms that Dixie won't premiere with a time-jump that has Zoe being already eight months pregnant (thank god).
Zoe Won't Find Out About The Pregnancy Until Episode 6
This might be wishful thinking, considering the fact that Zoe Hart's an intelligent doctor that probably knows what being pregnant will feel like. And, well, Rachel Bilson was already pregnant when Season 4 started filming. But it's also possible that the series will choose to hide Bilson's baby bump until Episode 6 and have her take a pregnancy test and then seek out a second opinion because she refuses to believe that she's having a baby. I mean, Zoe's come a long way from her Season 1 lack of bedside manner and emotional development, but maybe she's not sure how ready she is to be a mother and the prospect of being pregnant worries her? So much so that she needs to get to a doctor ASAP.
Zoe Will Have A Complication In Episode 6
Another alternative is that we'll get an entire season of pregnant Zoe Hart, even if the idea of the series giving her a complication seems a little too dramatic for the show. If she finds out that she's pregnant during the Season 4 premiere, it's entirely possible that Zoe could have some type of complication just past the mid-way point in Season 4. It'd be a challenge for Dixie, which is primarily a comedy series, but it'd add a depth to Zoe Hart that fans haven't seen yet. And if the show's hoping for a Season 5, it definitely wouldn't hurt to develop a little more emotional depth in its characters.
Zoe Will Have Her Baby In Episode 6
Depending on how quickly Season 4 moves through time, Zoe Hart could have her baby in Episode 6 without necessarily having to be pregnant in the season premiere. There could be a midseason time-jump after Episode 5 or Zoe could find out about the pregnancy in first few episodes of the season and by Episode 6, she's going into labor. Dixie has, in the past, sped through an entire year and then some within a season, so it wouldn't be wildly crazy for nine months to pass between the first and sixth episodes of Season 4.
Images: Michael Yarish/The CW; Giphy; voldemorte; fuckyeahzade/Tumblr