Real Women In Tech. In Real Underwear.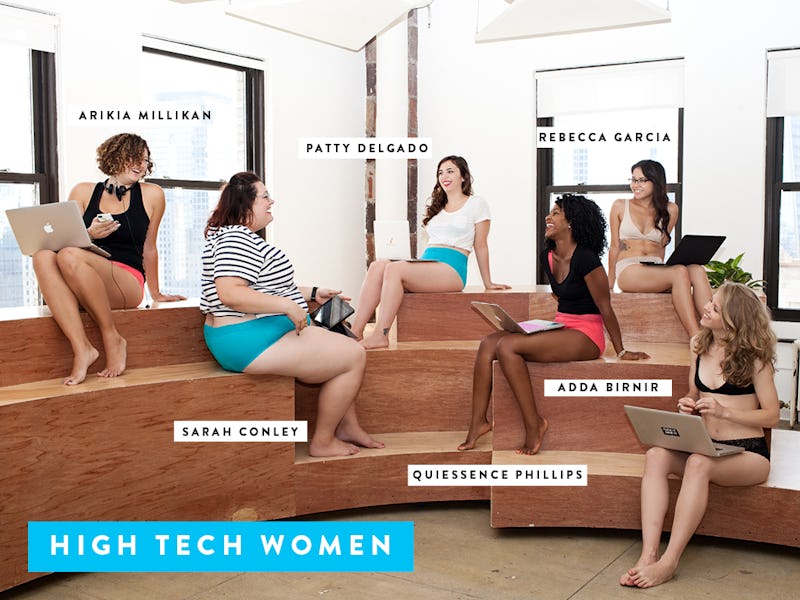 You may have heard of high-tech apparel brand Dear Kate before thanks to their incredible Kickstarter yoga pants campaign. The brand ended up reaching their funding goal in under an hour. Really. Following the "Go Commando With Dear Kate" campaign (seriously though, how great do those yoga pants sound?), the brand is back with new products and a new lookbook for their Dear Kate "Ada Collection," which features real women who work in the tech industry. And it's pretty amazing.
The collection of high-tech undergarments is named after Ada Lovelace, who was widely considered to be the world's first computer programmer. That on its own is a pretty cool fun fact, but the best part of the collection? The incredible lookbook features all of the collection's pieces modeled by real-life, successful women in the tech industry. The women range "from back-end developers to social media mavens to founders and CEOS," Dear Kate CEO Julie Sygiel told Bustle.
Sygiel first had the idea to feature models in her shoots who, well, weren't typical models when Dear Kate debuted their Amelia collection (named after Amelia Earhart), which featured a trapeze artist in the shoot. "The rest is history," Sygiel said.
"We like to feature women in our photoshoots who we admire because of who they are and what they do rather than simply how they look," Sygiel said. "As the majority of the systems, products, and cultural developments that will shape our future rely on technology, we personally think it's important that women are at the table helping to make decisions in technology."
The underwear and bras themselves are, of course, made with high-tech comfort in mind. With three breathable layers, the underwear are described as being great for "running and jumping, in the gym or on the go. For a peaceful night's sleep, with or without a baby in tow." Basically, they seem all-around wonderful, and ideal for wearing underneath your favorite outfits. I'll take a pair in every color, please.
Not only are the products themselves great (everything looks so irresistibly comfortable), but the fact that they are modeled by women who are beautifully real, with bodies who look like yours and mine and careers that are successful and unique, is truly powerful. It makes you take a second look at the product and the women in them, and provides a bold, fun look into the female pioneers of the tech industry.
Images: Brister Photo (4)