They Reunited & It Feels So Good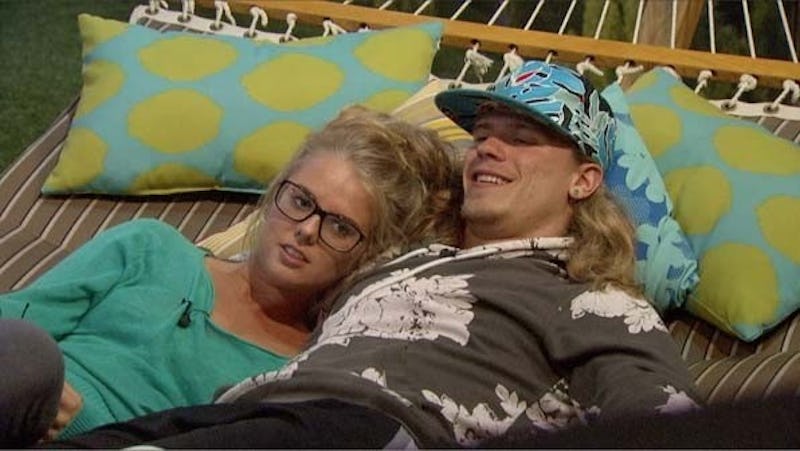 Just as we saw one showmance break a part during Thursday night's Big Brother , another one came back together as if no time had passed at all. We got a glimpse inside the Jury House during the episode, as we usually do every season of Big Brother, and saw that there was one upside to Hayden and Nicole being evicted. Jocasta was joined by Hayden in the house, and he was happy/sad to see his showmance partner quickly follow him into the Jury House. I'm so glad this awkwardly cute showmance wasn't absent from our lives for long.
As you would expect, Hayden and Nicole were excited to see each other, though Hayden said it was bittersweet that Nicole was evicted, and they picked up things right where they left off. There was plenty of awkward flirting. The sun set. And then there was a big old kiss. If you were too busy mourning the loss of Zankie to truly appreciate that romantic moment, play it back. It's worth it.
It feels good knowing that Nicole and Hayden have been reunited. They're young, in love (well, like), and seemingly without much responsibility. I have high hopes for these two to make it. Nicole mentioned in her exit interview with Julie that she doesn't know if she and Hayden will make their romance "offish" once Big Brother is over, but she did say they will remain friends. I can certainly work with that.
And now that they had all that free time that was possibly not monitored by cameras 24/7 like they were in the actual Big Brother house, who knows what happened? Nicole seemed pretty shy to get her PDA on in the Big Brother house. Maybe it was because she knew all of America, not to mention her loved ones, were watching. We can only hope that they got to know each other better and figured out what their status is or will be, especially since Nicole won her way back into the Big Brother house.
That's right, after that too-cute-for-words reunion, Nicole and Hayden were separated. Until they meet again, at least they have the memories of their time spent together in Jury House.
Image: CBS