The 5 'OITNB' Stars The Emmys Forgot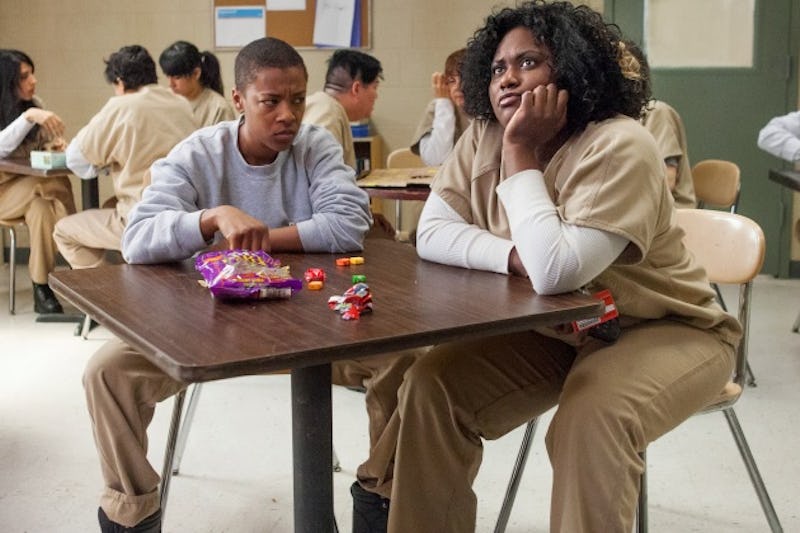 Like most awards shows, this year's Emmys certainly had its share of snubs: Orphan Black's Tatiana Maslany, The Good Wife for Best Drama, any of Parenthood's always-incredible cast. Yet it's hard to hold a grudge when the show also did some things so clearly right: nominating Lizzy Caplan, giving love to SNL's Kate McKinnon, and, of course, showering so many nods on the cast and crew of Orange is the New Black . The Netflix series' first season earned a whopping 12 nominations, including Best Comedy Series and Best Lead Actress, plus several spots in the competitions for Supporting and Guest Actress. It's a major achievement for the show, as well as for its incredible ensemble of actors.
But that, right there, is the problem: Orange is the New Black is an ensemble. A huge one. Filled with talented, impressive actors, many of whom the Emmys chose to ignore. The people it did nominate — Taylor Schilling, Kate Mulgrew, Laverne Cox, Uzo Aduba, Natasha Lyonne — are deserving and fantastic. Yet so are their castmates, and although the snubs are understandable — there are only so many spots in each Emmy category — that doesn't mean they're not frustrating. Here are the five Orange actors who deserved Emmy noms of their very own:
Taryn Manning
The biggest Orange snub of them all, Manning was season one's secret weapon: a villain and a victim all in one, a psychopathic, Jesus-loving inmate responsible for some of the show's absolute best lines and moments. Yet it seems that because she played the joke, she was overlooked, admired but never appreciated. There's too many great Pennsatucky moments to choose a favorite, so I'll just leave you with this:
Samira Wiley
Although Wiley's best performance came in season 2 thanks to a heartbreaking flashback, her work in season 1 was still hugely impressive. The actress perfectly conveyed Poussey's emotions over her long sentence and deep friendships, coloring each joke and smile with a hidden anguish that would only get expanded come the show's second year.
Michelle Hurst
The actress behind Miss Claudette, Piper's rigid, no-nonsense roommate, gave one of the most beautifully subtle performances of last season. As she slowly let her guard down, opening herself up to the idea of hope, she never became likable, exactly, but at the very least, understandable. And when her appeal was denied, and all she had to live for was suddenly gone, she broke down in one of the quietest, most powerful scenes Orange has ever had.
Danielle Brooks
As Taystee, Poussey's loud, kind-hearted best friend, Brooks effortlessly made her character one of the show's most likable. It was impossible not to root for Taystee, whether she was expounding on the importance of Harry Potter or struggling to find a home in her first days post-jail. As tough as it was to see the inmate return to Litchfield after her short taste of freedom, Brooks' re-appearance was a major cause for celebration.
Constance Shulman
It might've been hard for some Orange viewers to get past Shulman's Patty Mayonnaise voice, but once they did, they got to witness one of the most surprising, affecting performances of the show's first season. Shulman's Yoga Jones calm, sympathetic demeanor hid a fierceness that only came out when she was reduced to her biggest secret: the drunken, accidental murder of a child. Her tense, emotional stand-off against Janae, as she defended and hated herself at the same time, was a privilege to watch.
And as for next year's Emmy noms...
Lorraine Tussaint
Orange's only true villain was monstrous, calculating, and a thrill to watch, thanks to Tussaint's fantastic, intimidating performance. The show will never have a character, or actor, like her again.
Yael Stone
The best performance of Orange season 2 goes to Yael Stone, who transformed from a sweet, innocent inmate to Litchfield's most dangerous in a matter of minutes, yet never losing viewers' sympathy — or our attention. This woman deserves all the awards the Emmy has to give.
Images: Netflix (9)