'True Detective' Is Playing a Risky Emmys Game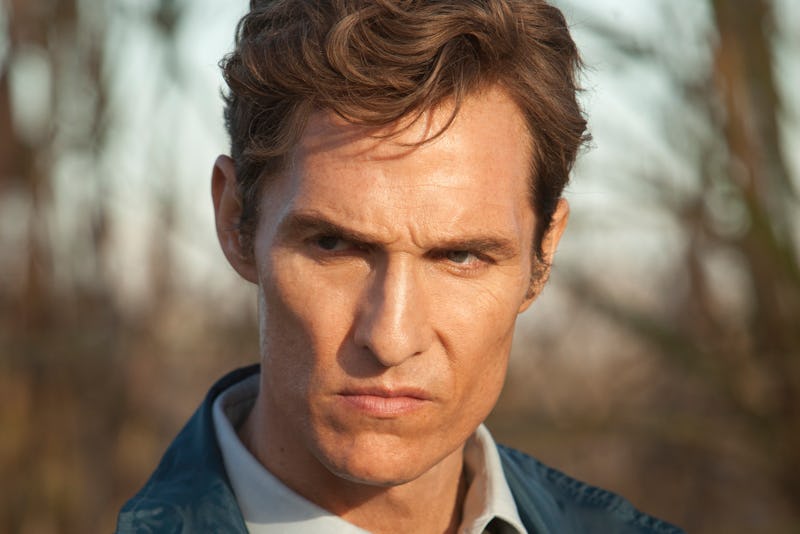 Rest assured, everyone, HBO's crime drama is already an Emmy winner. True Detective won a few Creative Arts Emmys, like Outstanding Cinematography for a Single-Camera Series (probably for that mesmerizing single-camera seven minuet tracking shot) and Outstanding Main Title Design (for that main title that could very well be a series itself). The remaining awards will take place Monday, during the 2014 Emmy Awards, where True Detective is up for Best Drama Series and Outstanding Use of Matthew McConaughey Arts & Crafts. This shouldn't be any surprise, because True Detective was an outstanding drama series, but the big question is, why was True Detective submitted as an Outstanding Drama Series in the first place?
True Detective is fact a television series, yes, but it neatly fits into the category of mini-series. The series was sold to HBO as a single stand-alone season. It include a cast that we knew, up front, would only stick around for one season, even when HBO ordered a second True Detective season. And to boot, the entire story resolved by the end of the produced episodes. (Can you imagine if we were all still sitting around, staring at strange twig sculptures trying to figure out what it all means?) Look, HBO. True Detective is clearly a mini-series. Even the Emmys' definition of a "mini-series" spells it out:
A miniseries is based on a single theme or story line, which is resolved within the piece. In a single awards year all of the parts must be presented under the same title and have continuity of production supervision.
However, if you follow the correct submission rules, you can submit your show for whatever category you want. Same way that Orange Is The New Black is in the comedy category rather than the drama one, even you're thinking to yourself, "But it's so much more than just a comedy! It's about life!"
For the 2014 Emmys, HBO and the True Detective producers decided it would compete as a drama series, and it was submitted as such. Simple as that. Instead of going up against American Horror Story and Fargo, it's going head to head with Breaking Bad and Mad Men though it clearly fits better among the miniseries, much like AHS and Fargo. Both of those shows were single stand-alone seasons, and both had their central conflict resolved by the end. No cliffhangers. No continuation of any kind. Miniseries, the both of 'em.
Of course, this is a huge risk on HBO's part. True Detective will enter the ring with Heisenberg and attempt to come out victorious, but what if this plan fails? It's a safe bet True Detective and HBO could take those losses and learn to submit for mini-series next year. After all, Downton Abbey pulled a similar switch a few years ago: first year it was a mini-series, second year it was a drama series. With the Emmys, series can go where ever they think awards will follow.
But that won't fly on the third best award show on television, the Golden Globes. The Hollywood Foreign Press is actually cracking down on "category fraud" in the nomination process. Basically, they just shut True Detective out of being nominated for outstanding drama series for their awards with clearly defined stipulations for shows. True Detective must compete as a mini-series if it wants to enter the race. That's it. If only the Emmys were that simple.
Instead, True Detective, AHS, and Fargo are all considered to have "dual eligibility." As it happens, HBO submitted as a drama and FX submitted its series as mini-series. But HBO's bold move was met with plenty of frowny faces. The decision has a lot of people upset, like FX's CEO John Landgraf who is calling for a better defined nomination process.
The easiest thing to do would be for the Emmys to hammer out clear, solid rules for what they define as a "drama series" and then a "mini series," similar to the way the Globes have. And consider the slew of single-run TV shows this year, it might make sense for the Emmys to consider a whole new category for shows like True Detective and Fargo. After all, when you add in a show like Sherlock, which is basically three mini-movies over the course of the season, the competition becomes an attempt at comparing apples and some fruit nobody's ever heard of. A new category would certainly clear things up. Until then, enjoy the wild west-themed Emmys, y'all.
Images: James Bridges/HBO; Chris Large/FX