'Guardians Of The Galaxy' Won This Summer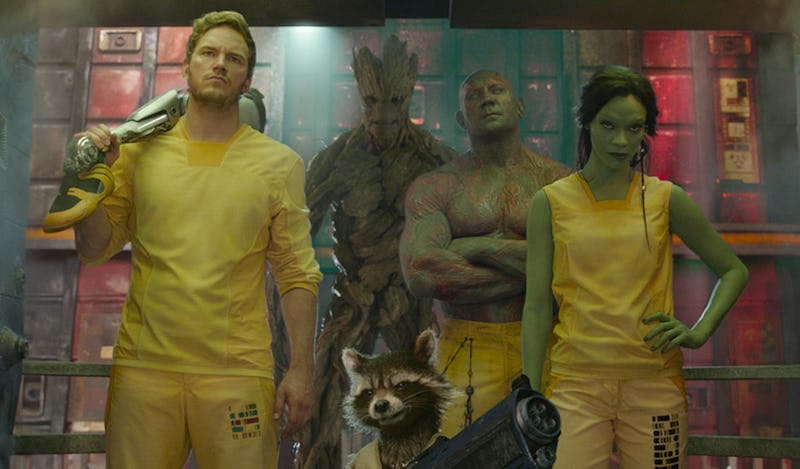 The summer of 2014's been a relatively lackluster one for cinema. There's been spectacle, sure — dinosaur robots from outer space, mutated adolescent turtles, the usual. But on the whole a lot of this summer's movie madness was lacking in the madness, and on the whole kind of meh. Which is why it's no surprise that Guardians Of the Galaxy is the highest-grossing film of the summer.
Guardians received this box office distinction in competition with films like The Amazing Spider-Man 2, Maleficent, Transformers: Age Of Extinction, Tammy, X-Men: Days Of Future Past, and Teenage Mutant Ninja Turtles. Granted, according to The Hollywood Reporter it beat Age of Extinction's domestic box office gross only by about $2.7 million, but I'll take it.
Teenage Mutant Ninja Turtles and Age Of Extinctionmay have done a damn good job topping the box office charts their opening weekend, but no movie this summer had an opening surrounded by as much palpable excitement as Guardians Of the Galaxy. People left those theaters downright enthused, and more than ready to accept Chris Pratt as their newest celebrity BFF and spend copious amounts of time reminiscing about baby groot.
It's this kind of thing that really paints the picture of why Marvel has the place that it does in our current culture: DC Comics can get butts in seats, Transformers is apparently always going to make buckets of money — but even when they've got people side-eyeing some of their choices, Marvel's doing what those other studios are doing while stirring up more in their audience than their dollar bills. If that's not good branding I don't know what is.
Image: Marvel