Kesha's Hair Brings the Party to the VMAs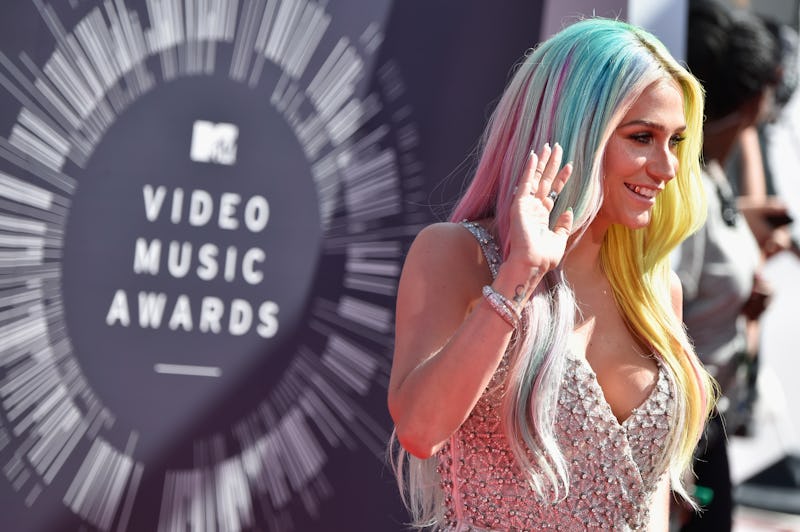 Frazer Harrison/Getty Images Entertainment/Getty Images
Kesha is no stranger to funky-colored tresses, and it looks like she's not changing her tune for the VMAs. If you were planning on waiting for the red carpet for the big unveiling of the beauty looks, here's a spoiler alert. As far as we can tell from a picture posted on the singer's Instagram, Kesha is rocking rainbow hair to the MTV VMAs. Basically, if you had the hair follicles of a Sky Dancer, that's what Kesha's weave looks like.
Just around an hour ago, the singer put up a picture over her Instagram, featuring her beauty team hard at work on the masterpiece that is Kesha's mane. In the photo, Kesha is topless and has her newly done hair falling over her NSFW parts. Basically, she looks like Lisa Frank's rendering of Lady Godiva. The accompanying caption for the picture was "just doesn't feel right NOT posting a partially nude pre vma look. #rainbownakedboob." Please, can we get #rainbownakedboob trending on Twitter?
Really though, on to the look. We've seen Kesha with green hair. We've seen her with yellow, with pink and blue. Incidentally, she debuted her rainbow hair on Instagram in the past few weeks. This, however, is the synthesis of everything. She's a vision in ROYGBIV. Behold, her crazy, beautiful weave.
Image: Kesha/ Instagram