These 7 Celebrities Tried Green Hair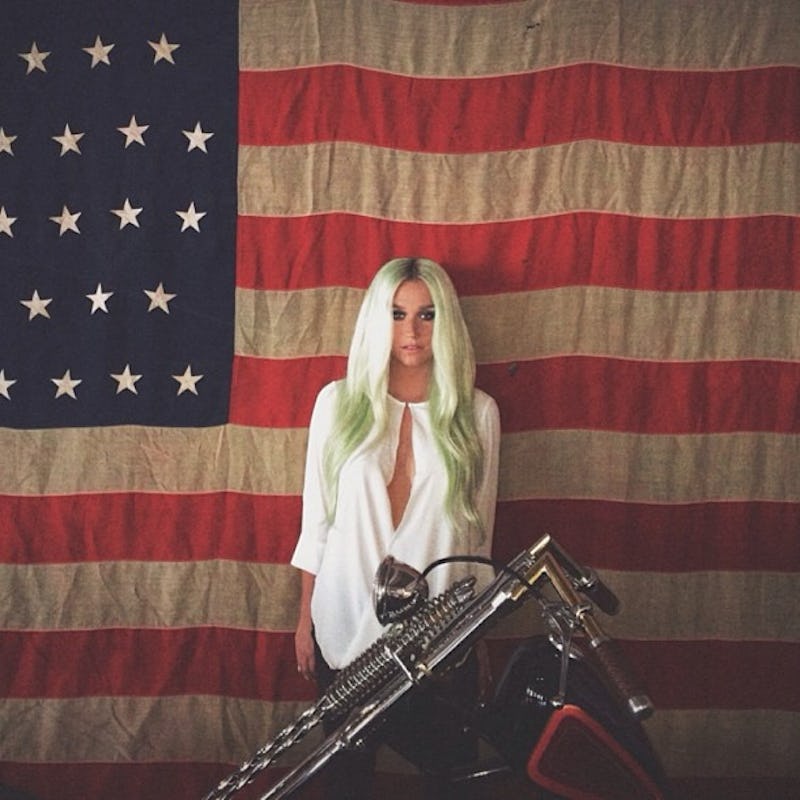 Dying one's hair can be an incredibly empowering experience, especially when one happens to be a celebrity named Kesha. The notoriously edgy singer now has cascading mint-green locks, and the look perfectly encapsulates both Kesha's style and the celebrity trend of crayon-colored hair. From highlights to lowlights and bubblegum pink to radiant orchid, celebrities adore switching up the shade of their locks with the world watching. After all, what better way to announce a change in image than via Instagram? However, some colors are simpler than others to work, and green may be the most difficult.
Green is not a shade historically associated with beauty if the idioms "green with envy" and "green eyed monster" are any indication. Nor is it considered attractive for one's face to turn a shade of green, unless queasiness is suddenly in vogue. Plus, it's just super hard to pull off without looking like you spent too much time in chlorine this summer. But over the past several months, it appears that green is an acceptable if not lustworthy shade for hair. If Kesha, Katie Perry, and Kylie Jenner are each rocking green hair, there must be a burgeoning trend. The look isn't a head of emerald hair; rather, most celebrities appear to create an ombre look of green mixed with other shades to cut the impact of emerald locks. In honor of Kesha's new 'do, here are six other celebrities who managed to make green hair look stunning.
1. KESHA
Kesha could have simply kept her locks in a demode cascade of bleached, platinum blond curls, but the mint tint adds the ideal amount of sass to her look.
2. DEMI LOVATO
Demi Lovato's hair has likely been dyed ever shade under the sun, but an ombre green truly pops against her naturally dark shade.
3. KYLIE JENNER
Somehow, Kylie Jenner manages to make a mussed, electric green mane look creative and fresh instead of goth and vaguely threatening.
4. KATY PERRY
Though I happen to think Katy Perry's cotton candy-colored pink hair was winsome and delightful, her green dye job has a certain glamour as well.
5. NICKI MINAJ
Speaking of glamour, Nicki Minaj's perfectly coiffed, curled green bob is exactly what Marilyn Monroe's locks would have looked like, had she chosen to go through an alternative/punk phase and dye her hair green.
6. AMBER ROSE
At this point, no one expects Amber Rose to play by the rules, and dying a buzz cut green is the perfect way to declare independence from beauty stereotypes. Who ever thought a green buzz cut could be so beguiling?
7. LADY GAGA
It was only a matter of time before Lady Gaga got bored of every other conceivable hair color and gave green locks a go, but I was surprised that she chose a shade that could be mistaken for a neon highlighter. Nevertheless, Mother Monster managed to work the look — at least until mere days later, when she tired of it and reverted to another appearance entirely.
Images: iiswhoiis/Instagram; ddlovato/Instagram; kyliejenner/Instagram; katyperry/Instagram; nickiminaj/Instagram; muvarosebud/Instagram; ladygaga/Instagram