Shocking 'Degrassi' Death Is Also Disappointing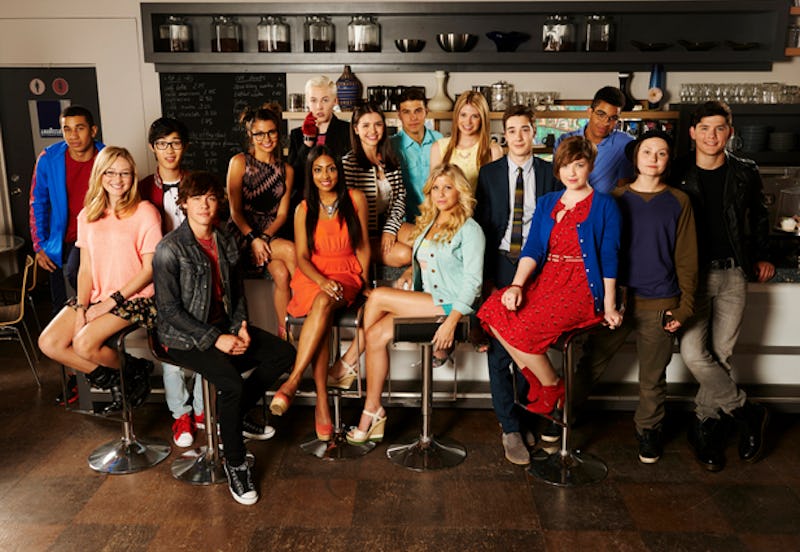 Degrassi's summer season promised lighter fare than the typical season of the TeenNick show. This summer, the characters have been split between two separate locations: a summer camp and a (green screened) Paris, France, where the Degrassi students are studying abroad. The season has been one filled with summer flings (foreign and otherwise), girl fights, and shopping montages — pretty fluffy stuff for a show that, months ago, featured its first-ever suicide of a Degrassi student. While the show wouldn't be Degrassi without some serious drama — Clare, a rising senior, forgoes Paris in order to receive chemotherapy for her recently discovered cancer — it appeared that this shorter season would prove to be a bridge between some of the heavier episodes we would undoubtedly see come fall. Apparently, we were wrong.
On Thursday night's episode, senior Adam Torres (Jordan Todosey) drives the camp van in order to look for better cell service in the woods — only to crash the van due to his texting and driving. While this isn't a surprising storyline for Degrassi, a show that acts both as a teaching tool for teenagers as well as an entertaining soap, the consequences of the storyline are surprising — no one expected Adam Torres' death.
But Degrassi is only one of several shows popular with younger audiences that has featured a major character's death in the past year. The Vampire Diaries, Pretty Little Liars, and Smash all saw a character pass away, and saw its young characters coping with something much darker than the teen angst they typically deal with. TV deaths are difficult to digest for any viewer, let alone the young audiences who tune into this more teen-friendly fare. Because of that, it's important the shows handle something as serious as dying and grieving with skill and tact.
It's something one hit TV show in particular has struggled with in recent weeks. Coincidentally, Degrassi's death comes the same day as the news that Glee will not acknowledge how Finn Hudson dies following Cory Monteith's lethal drug overdose in July. Not acknowledging the reason behind Finn's death — the show, instead, will focus on a celebration of Finn's life — is an interesting choice for Glee, particularly for a show that has been accused of using real-world issues as a ratings grab.
But is Glee ignoring an important opportunity? Based on Thursday night's episode, it seems Degrassi would think so. Never one to miss up the opportunity to teach its young viewers a lesson, Degrassi often tackles many issues deftly. (Cam's suicide during the spring season was handled exceptionally for the drama). But Thursday night's texting-and-driving death felt... wrong. There's no doubt it's an important issue, but thanks to the many PSAs that air on television showing the dangers of the action, the plot twist seems like too much of a stunt. It seems like an unfair, unremarkable way to write off a remarkable character that has brought so much to the show — as the first transgendered student at Degrassi, Adam routinely taught the other students about acceptance for the LGBT community. Did his last act as a character truly need to be a plot twist that supported a very special episode?
Which is exactly why we have to laud Glee, a series known for tackling far too many very special issues for finally rejecting a very special episode surrounding Finn Hudson. Thursday night's Degrassi proved that combining tragedy with stunts only leads to eye-rolls. And, right now, ahead of its fifth season premiere, Glee needs to offer up episodes that only allow us to use our eyes for crying. Trying to have the death of Finn mirror Cory's death would dishonor Finn's character — Finn never used drugs or alcohol on Glee, after all. Not to mention, it would dishonor Monteith, who deserves to be remembered as more than the poster boy for addiction... and a ratings pull.
Admittedly, we're ready for a lighter TV season that doesn't gut us — it's about time that young audiences get to enjoy some glee on the small screen. But when things get dark, TV has a responsibility to allow us to see the light.