Tammy Might Set Her Sights on Someone New Soon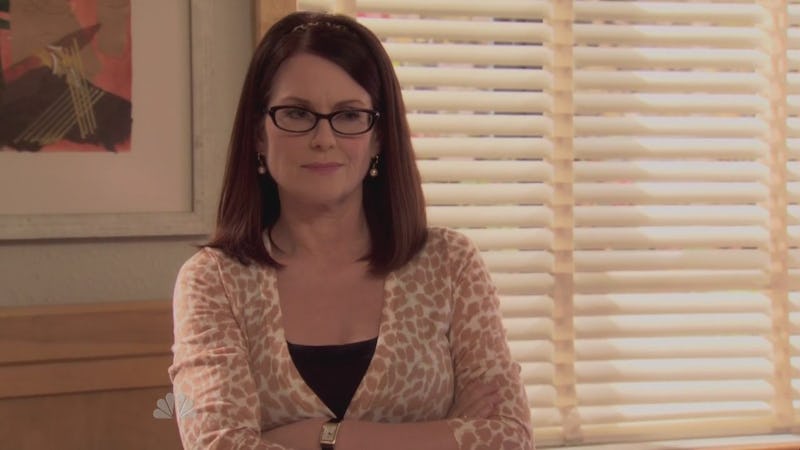 All good things must come to an end, and as Season 7 approaches, NBC's Parks and Recreation is no exception. Yes, all reports confirm that the beloved show's upcoming season is its final one, which isn't the worst news. The characters, especially Leslie, have sort of reached their endgame, career and relationship-wise. Going beyond one more season would be little more than beating a dead horse and no one wants that (pour one out for Lil Sebastian). But fans do have plenty to look forward to before the series ends, one being that Megan Mullally is confirmed to return as Tammy II to Parks and Rec's final season. The second episode is entitled "Ron and Jammy," so clearly we've got another addition brewing in the Ron and Tammy saga — but not how you might think.
Production for the final season began earlier this month, according to an excited Instagram post from star Retta, so the gears are already turning to bring us, the viewing public, the Parks conclusion we've been waiting for. So what can we expect from Tammy as she prepares for her final bow?
In an interview with TV Line, the show's executive producer Michael Schur commented on a Season 6 plotline that never came to be, in which Ron and Diane scheme to hook Councilman Jamm and Tammy II up. Given how much of an actual hindrance Jamm was to our heroes in Seasons 5 and 6, we can only assume that Ron wanted to sic Tammy on Jamm so that she could subsequently destroy his life (and prevent Jamm from destroying theirs).
But given that the title is not "Jamm and Tammy" and instead namechecks Ron directly, it's a pretty sure bet that Jamm and Tammy's union will be so horrifyingly strong that it will create a brand new beast for Ron to reckon with. It's only fair that the show end with a boss-level Tammy altercation, and we'll need something bigger and more epic than Tammy 0, Ron's mother, and her moonshine-drinking battle or the sheer terror of Tammy I that had even Tammy II shaking in her crazy pants.
As for Jamm, I can think of no better candidate to create an unshakable obstacle. He's gone on record as personally disliking the Parks Department, especially Ron and Leslie, and often has gone out of his way to "Jamm" things up for them. If the lonely Jamm can finally get his skeez on with Tammy, not to mention join forces in their general love of evil, it would be a perfect match. Tammy certainly can't let Ron's new happiness with Diane just happen, so she'll have to get more creative with her meddling and havoc-wreaking.
One thing, however, is guaranteed. We're all going to feel the sharp wrath of a Tammy scorned.
Images: NBC; Giphy