Where In The World Are The 'Sherlock' Boys?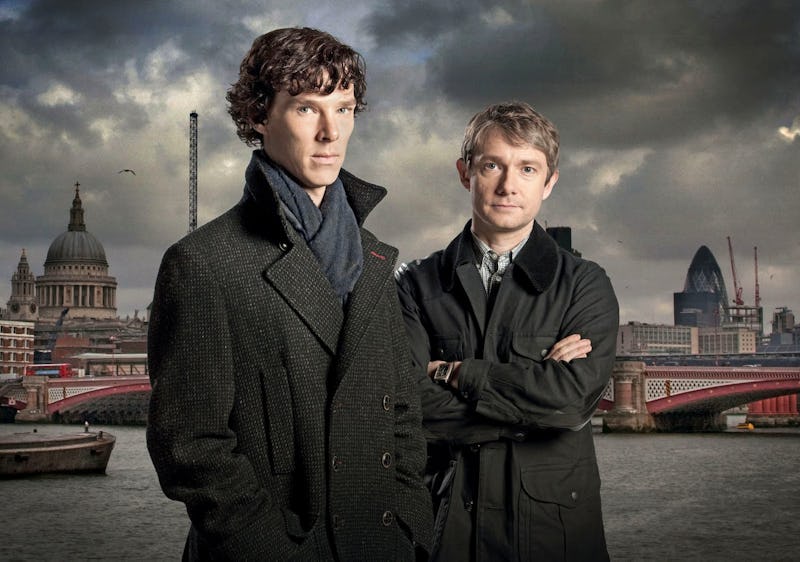 Do you hear that? It's the sound of hundreds — nay, thousands — of Emmys watchers squealing with joy. Why? Because two certain Sherlock fellas are finally getting the proper love and recognition they so rightfully deserve. Not only has Benedict Cumberbatch finally won an Emmy for Outstanding Leading Actor in a Miniseries Or Movie for his sleuthy detective work in Sherlock, but his comrade in arms, Martin Freeman (aka John Watson) has also earned an Emmy win for Best Supporting Actor in the same category. And, of course, this is amazing news. Cumberbatch and Freeman have proven to be an unstoppable force (and a world-class bromance) for three straight seasons now, so it feels right to see them getting the praise they've so dearly earned. There's just one problem though. Neither of these blokes are actually at the Emmys to receive their awards. (Gasp!) Seriously, where in the world are Cumberbatch and Freeman? Don't they know how much we would've loved to hear what I'm sure would've been brilliant acceptance speeches? Why would they take this away from us?
It's probably for the same reason that Sherlock Season 4's premiere is still so far away. They're just too darn busy. These boys have turned into quite the hot commodity these days, thanks in large part to the huge popularity they've garnered since Sherlock began. But a lack of a free schedule seems like such a mundane excuse, especially for these guys. So here are a few other fun suggestions I've concocted as to what else could've possibly kept these lovable Brits away from our eyeballs on Monday evening.
They Are Secretly Filming Sherlock Season 4
I know this is probably just my own personal fantasy, but please-oh-please let this be true. The game is on!
They're Pranking Tom Hiddleston
He was, after all, the one who nominated Cumberbatch for the ALS Ice Bucket Challenge. It's time for payback!
They're At the Dry Cleaners
If you recall, someone's tux got a little soaked recently. And clearly a trip to the dry cleaners is a job for two.
We missed you, boys!
Images: BBC; Giphy (3)