All I Want For Christmas Is More 'PLL'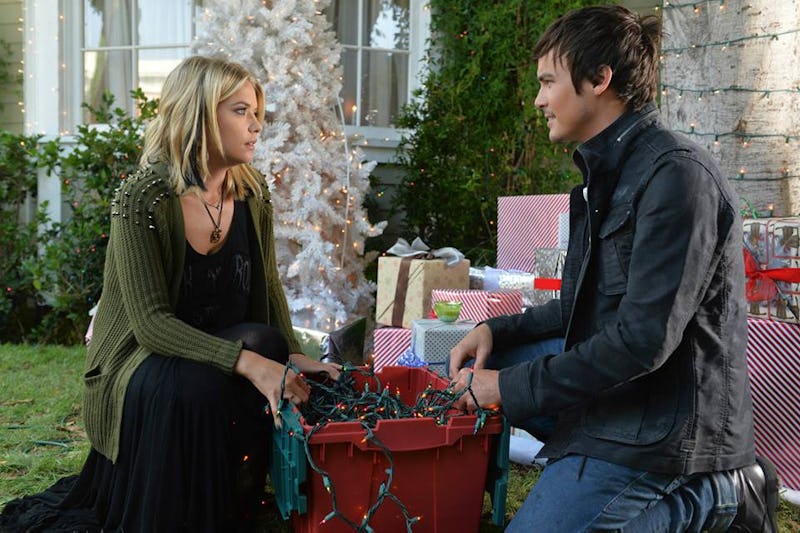 Were you feeling sad that I. Marlene King had forsaken during Pretty Little Liars Season 5? On top of, you know, killing off a major character in the PLL summer finale, we can't look forward to our usual Halloween fix. PLL fans have become so accustomed to taking a brief break following the summer finale, only to be creeped out and shocked by a PLL Halloween episode during ABC Family's annual "13 Nights of Halloween." Well, that's not the case in 2014, frenemies — sort of. We'll all have to wait for December for the next full-episode following the #FAtalFinale because Pretty Little Liars Season 5 will have a Christmas episode BUT PLL will also have a Halloween Special, dedicated to the fans. Three cheers for Ezra Fitz in Santa Claus boxers. Amirite? Update: The PLL Halloween special aired Tuesday and revealed when we'll meet A along with some Holiday Episode spoilers.
I know, you're really upset that you have to wait that much longer (two extra months is a pretty long time for folks like us) to find out the repercussions of the Season 5 summer finale. But, PLL's fifth season actually might be even better than any of the seasons before it. No, not because we'll finally find out who "A" really is — I lost hope about that a long time ago. But definitely because we're going to get a Christmas episode — who doesn't love those. AND because Marlene King and the cast are finally going to thank us for sticking with them through four and a half seasons of red herrings and dead (some literally) ends. Yes, ABC Family is aware of the fact that PLL fans are perhaps the most dedicated in the world, even when we're repeatedly disappointed by promises of "answers."
The Halloween Special aka "We Do It For The Fans"
An ABC Family press release from Aug. 8 revealed that, while there won't be a super-creepy Halloween episode of PLL this year, fans will still get something special from the inhabitants of Rosewood during October. As a part of "13 Nights of Halloween," ABC Family will air "a one-hour fan appreciation special" to thank PLL's fans for making it "the most-watched and most-social series." Fans can currently submit their questions for the cast to the PLL Facebook page or using #PLLHalloween on Twitter with the burning hope that they'll be answered during the show. (I don't suggest asking, "Who is 'A'?" though. Sorry.) Who ever said Marlene King didn't care about us?
So when does it air? If "13 Nights" schedule allows for PLL to stick with its Tuesday night schedule, the one-hour special could air on Oct. 21 or 28. Mark your calendars, people.
The Christmas Episode aka "sAnta clAus is coming to town"
We're getting a Christmas episode, people. THIS IS HISTORY IN THE MAKING. The air-date for "How 'A' Stole Christmas" has yet to be announced but photos from Tuesday night's summer finale already have the cast decorating for Christmas. Apparently, King's been trying "for four years" to get a PLL Christmas episode and finally ABC Family broke down. The showrunner will write and direct the PLL holiday special and King's also been dropping hints on her Twitter using the #MajorPLLHolidayClue. So, you're probably going to want to jump on that while you're painfully waiting three months for the episode to premiere.
So when does it air? Again, if ABC Family's annual "25 Days of Christmas" allows for PLL to air on a Tuesday at 8 p.m., the episode could air on Dec. 2, 9, 16, or 23. Imagine PLL the night before Christmas Eve? That's the true definition of Christmas coming early.
Images: Eric McCandleless/ABC Family (3)