Here's What Secrets The Liars Spilled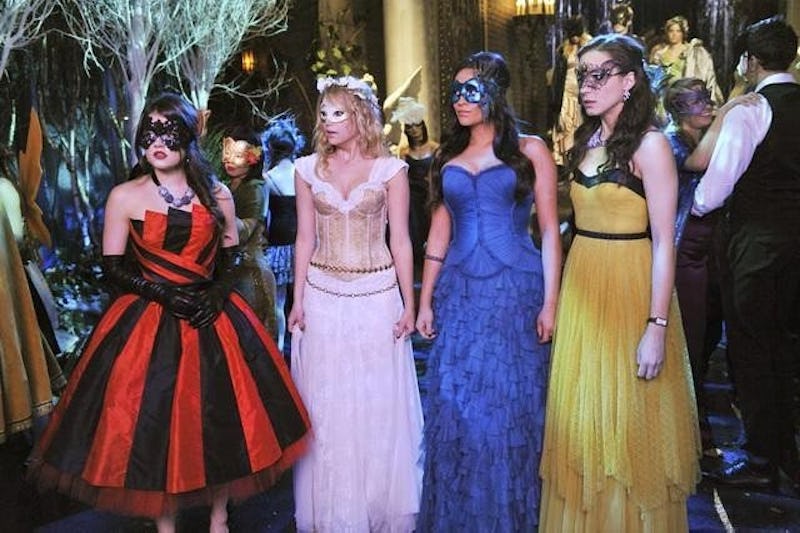 Get ready, Pretty Little Liars army — you're about to find out who A is. Err, okay — not right this very moment. But you ARE about to find out when you're going to find out who Big A is. The Pretty Little Liars Halloween special "We Love You To Death" didn't spill many spoilers about the series, but it did give us an answer to a question we've been asking since the pilot episode: When will we finally learn A's real identity? You'll have to wait a while for the actual answer to that question, but you can rest easy knowing that the answer won't come in the last episode of the series. In fact, according to showrunner I. Marlene King, you'll learn who A is before the final season of the show starts. Yep — the big reveal will happen sometime in Season 6.
Of course, the beginning of Season 6 is almost a year away, so it's not exactly the most satisfying answer. Luckily, the Pretty Little Liars Halloween special also hinted at some of the stuff that we'll see rather soon on the show — namely, things that we can look forward to in the Pretty Little Liars Christmas episode, which airs on Dec. 9. According to the Halloween special, here's what we know about the upcoming holiday episode of the series:
Spencer Is Out On Bail
Remember how Spencer got arrested for Bethany Young's murder in the Season 5A finale? Well, don't worry — she gets out. And just in time, because...
The DiLaurentis Family Hosts An Ice Ball
One way to spread Christmas cheer? Attend the sociopath next door's holiday party. To be fair, the whole thing looks pretty epic. And we'll finally see snow on Pretty Little Liars!
The Christmas Episode Won't Stand Alone
Unlike certain Halloween specials, such as the flashback episode "The First Secret," this Christmas episode will directly flow from the last PLL episode and end where the new season will pick up.
Alison Is Scared Of Something
Is it her own reflection? Nope — it looks like Ali is genuinely terrified. Could it be the person who posed as her to kill Mona? Because that certainly looks like what went down in the Season 5A finale.
Hanna Finds A Creepy Recording
It sounds like Ali is telling someone to "stay out" of her stuff. Could she be talking to Bethany?
Spencer Sits On Santa's Lap
Could "Santa" really be Toby, wheelchair-bound from his accident? It certainly seems like it.
Image: ABC Family; Giphy