Why Gemma Needs To Fear The Reaper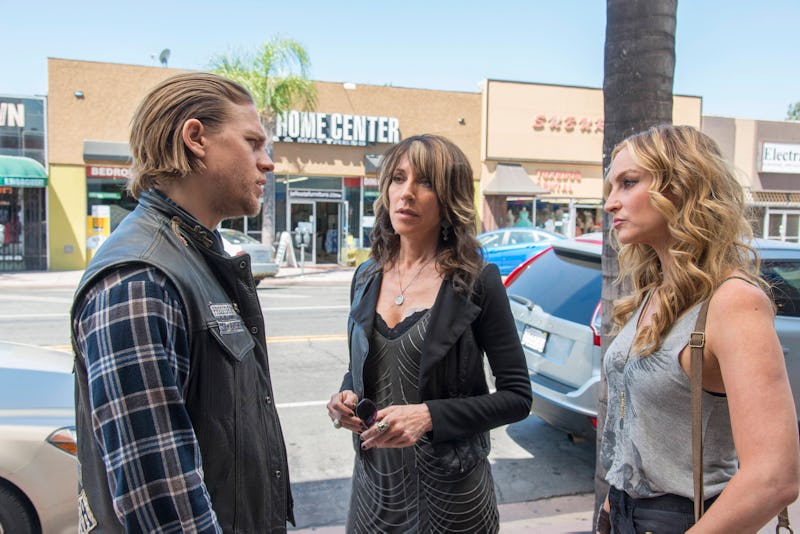 It's happening. Tuesday, September 9. Are you ready? The final season premiere of Sons of Anarchy and everyone's question is, who's going to die? My theory is that it's everyone. Just kidding. But if you think Jax Teller and his sardonic band of miscreants are going to kill like Beyonce at the VMAs then you would be correct. The final season of the series promises to be one full of blood and drama. Showrunner Kurt Sutter told EW two characters would die, and Gemma and Juice currently have the largest targets on their backs.
But first, let's do a quick recap of Season 6, shall we? Because, oh, yeah. That's right. Gemma killed Tara. Clay's dead too? Jax trusts no one? Jax are you gonna kill everyone to avenge Tara's death?
I just going to go ahead and assume Jax would give us a big ol' "yes." He's defeated. And with no hope of leaving Charming, California after Tara's death, you can bet your sweet biscuits that Jax is going to get his revenge. With that in mind, Sutter also noted in his EW interview that the blood bath within the club will be contained. He said that he doesn't expect more than two club members to be dead. Body count aside, the new final season trailer promises that blood will be shed.
That's not to say that characters who are not members of the club or getting out of Jax's vengeful grasp so easily. According to a poll at Comic Con 2014 taken by Entertainment Weekly, most fans think the death toll will look something like this:
Unser? Dead.
Tig? Dead.
Juice? Dead.
Gemma? Boom. Super dead. But how will it really shake out?
Gemma and Juice Are In Trouble
Sutter assured fans the body count would be pretty low, but it's pretty safe to say Juice and Gemma are in the hot seat at present. With what they've pulled over the seasons, I've gotta say, cheers to them for at least making it this far. They're looking like pretty likely candidates for the deaths Sutter teased.
Unser's Probably Safe
Unser, however, will probably alright. In another interview Sutter said, Unser is not necessarily aware of the details of what happened." He then went on to say that, "All that [Unser] knows is that [Gemma's] upset, and, he thinks, at that point, that it's because Jax is gone," he said. It may be safe to say that Unser may not be a victim of Jax's wrath.
Murder May Not Kill The Sons
When looking for other potential folks facing their maker, it's important to keep in mind Jax's ominous words to the club last season:
For me to move forward with all the things we now have to do, I need to know this table has no doubts, no mistrust, that every single one of you would kill or die for the man next to him.
It could be that the deaths hitting Charming may come as a form of martyrdom, rather than at the hands of a murderer.
But Juice Is In Jax's Crosshairs
But that martyrdom doesn't look it will come from Juice's corner, as he is no longer welcome in the SAMCRO world. He's hiding for his life. And we all know that if you try and hide on SOA, you're going to be found. Jax does not take kindly to betrayal and he will come for his revenge. Juice can be assured of that.
And Gemma's Fate Depends on Jax's Conscience
Gemma's fate is definitely up in the air; the big question hovering over everything is whether or not Jax will actually kill his own mother. Jax certainly has the motivation since Gemma has killed the woman he loves, but we're all asking the same thing Abel is asking in the latest trailer: "Did my daddy [Jax] do bad things?" To which the then living, Gemma replies, "Your daddy is a good man." Season 7 is certainly set up to test that assertion.
Images: Prashant Gupta/ FX Network; Giphy