Twitter's Uncertain About Casting Farmer Chris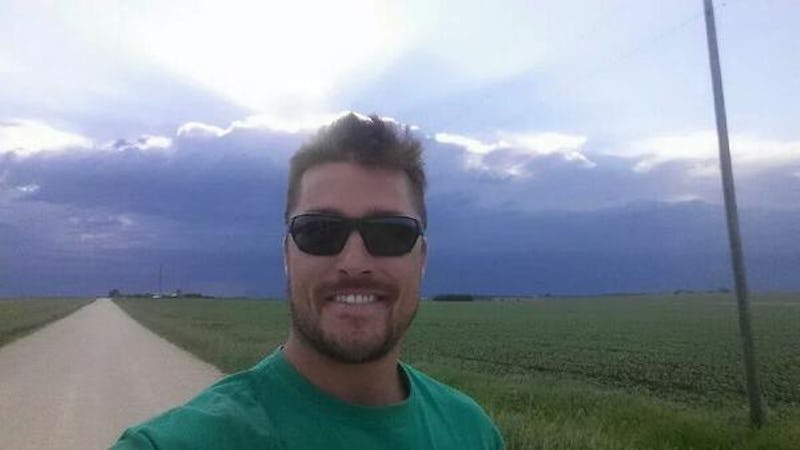 We're going to the farm Bachelor fans and everyone seems pretty excited about it. It's officially been confirmed that Chris Soules is the next Bachelor, so it's off to Iowa we go. And, surprisingly, considering all of the hype around Arie Luyendyk Jr., fans of ABC's The Bachelor aren't complaining at all. Chris was a fan-favorite on Andi Dorfman's most recent season of The Bachelorette and apparently Bachelor Nation is really into #FarmerChris. People are actually using #FarmersWifeInTraining — so, there you go.
The way Chris went out of Andi's season was heartbreaking, or at least it looked heartbreaking for Andi, but was really heartbreaking for us. Chris is a great guy, he's a sweet guy, and it's totally not his fault that he's really into his farming thing. But, sure, he was kind of boring compared to the other, totally out-there men on this season of The Bachelorette. And the Chris naysayers are running with that on Twitter, even though they should really be giving him a chance. He's a great guy, people. Thankfully, most of Bachelor Nation — at least, those of them that are on social media — seem ready to assume the best from Chris' upcoming season. Especially after Juan Pablo made us all want to batten down the hatches and hide from the outside world.
So, what is the general consensus regarding Chris Soules', aka #FarmerChris, appointment as the next bachelor? Here's where fans stand:
These SO Excited People
Praise.
See, SO excited.
Yeah. #Sorrynotsorry, Arie.
YES. PUNS. How I've missed these.
He deserves this, people.
These People That Are Already Prepared For The Final Rose
#Goals.
And The Naysayers
This is actually pretty clever.
He's that boring that he's not even worth remembering?
Aggressively opposed.
She fell asleep while typing boring because he's that boring apparently.