'SYTYCD' Star Jessica Richens Will Be Eliminated Unless She Learns To Emote More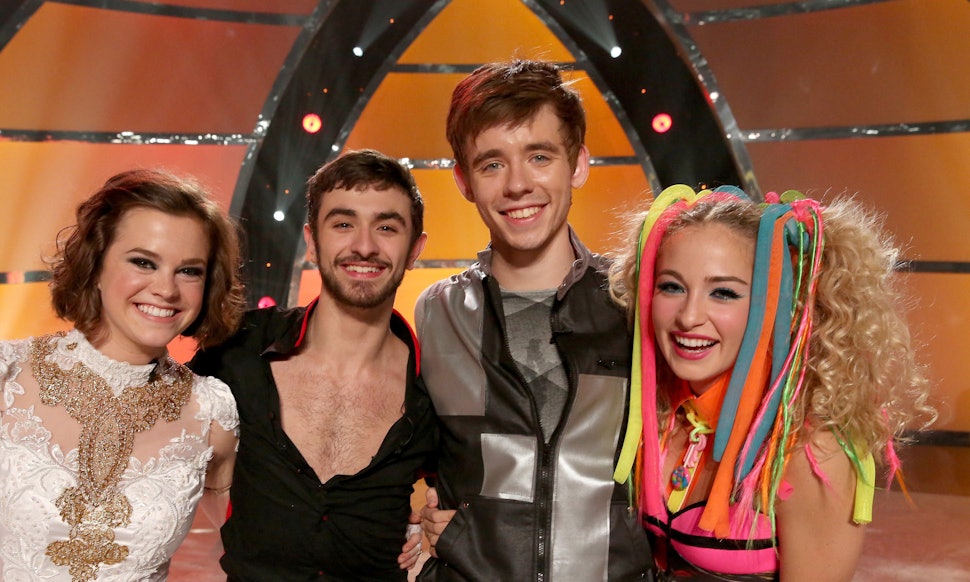 The summer is officially coming to a close — the nights are getting cooler, kids are going back to school, and So You Think You Can Dance is ending. With only one week of dancing left, who is going to be announced the winner of SYTYCD Season 11 on September 3? I've got my eyes set on Ricky Ubeda, but with four dancers in the competition, that means three people won't become "America's Favorite Dancer."
At this point, there's no denying the skills that all four dancers have. Yet if I had to choose (and it just so happens I do have to choose) the dancer that I think should be eliminated, I'd have to go with Jessica Richens. The girl's got talent, and is lovely to boot, but I don't think she deserves the win. Let's delve into her past performances to see why.
Image: Mike Yarish/Fox
Crappy Contemporary (JK, This One Was Inspiring)
OK, so this contemporary dance with Ricky in the first live show is not the best one to make my case. Judge Nigel Lythgoe said it was "other-worldly" and he was absolutely correct. This is the type of dance that inspires me as a choreographer (and now Sonya Tayeh is working with the Martha Graham Dance Company! Oh heart, be still).
Both of them were fabulous, so my critique can then be — where was this girl the rest of the weeks?
Image: Adam Rose/Fox
Weak West Coast Swing
This west coast swing fell flat and at the time I couldn't tell if it was Jessica or her partner, Nick Garcia's, fault. The dance was clearly difficult, because we could see them struggling, which is never a good thing. The judges decided it was Nick's fault as he was voted off that week. And thus began Jessica's revolving door of partners.
Image: Adam Rose/Fox
Not-So Magic Carpet Ride
Another week, another lost partner — this time in the form of Stanley Glover. Being the astute person I am, I knew he wouldn't make it far, but there was a disturbing trend happening to Jessica's partners.
I totally agreed with Nigel that I fell in love with Jessica during the callbacks and in her first live piece, but she wasn't living up to it. Jazz is her dance of choice and she wasn't standing out like she needed to.
Image: Adam Rose/Fox
Un-Foxy Foxtrot
Third time is the charm when it comes to losing partners for Jessica when foxtrot partner Marcquet Hill was eliminated this week. You could stay it's a strength that Jessica kept being left on the show even after three of her partners were voted off, but I think it might have been an oversight by the voters.
Sonya's contemporary piece matched her aesthetic best because she gave the strongest emotional performance in that. And since then, her facial expressions had either been slightly off or a mirror of that first live dance — when it wasn't completely appropriate for the dance at hand. I will say that visually though, Jessica did look the part in this foxtrot, but that's just not enough.
Image: Adam Rose/Fox
Conspiracy-Starting Contemporary
Well, this was convenient timing. With the judges choosing four people to be eliminated this week and with Jessica in the bottom three girls, she needed a great number to pull her through. And luckily she got that in this Travis Wall-choreographed contemporary dance.
This was the first dance since the first live show that I really liked her in. And of course the judges agreed. I always thought Nigel was gunning to keep Jessica, so was it a mere coincidence that she got show-favorite choreographer Travis? I sense a conspiracy theory a-brewing!
Image: Adam Rose/Fox
Hip-Breaking Hip-Hop
Although a tame hip-hop number by some standards, I was alright with Jessica in this one. It showed she can be versatile (which up until then, she hadn't really proved that), and I felt more comfortable with the fact that she was in the Top 10. Being partnered with tWitch never hurts either. But she could have used a touch more charisma with the silly premise of tWitch as an old man.
Image: Adam Rose/Fox
Earth-Saving Contemporary
The judges loved this "Earth Song" dance by Mandy Moore, but I was not so impressed. She looked gorgeous in her costume, but I didn't think it was so incredible. I was more entertained by the dances that Rudy & Allison and Zack & Makenzie did.
To be fair, I might have been biased because I hate Mandy Moore's overdramatic song choices, and in the same vein, I didn't like Jessica's solo to Celine Dion that week. She was too smiley. This was the week that I thought she should have gone… but, um, can I borrow that red dress sometime?
Image: Adam Rose/Fox
Diva-Creating Disco
Girl got spun like a rockstar in this disco dance with Casey. And it was nice to see her emoting some sassy fun, but I agreed with guest judge Christina Applegate that she could still work on her facial expressions. I wish her first ballroom number had been this fun… perhaps, I'm turning a corner with Jessica…
Image: Mike Yarish/Fox
Way Too Funky Jazz
… eh, okay never mind. Jessica can be eliminated. As a dancer, it is hard not to compete with hair and a costume like that (the green, furry leggings! Good god, the leggings!), and Jessica unfortunately got lost in it.
This dance, plus her solo of the night, just made me tired of seeing her prep these pretty turns (and Nigel said the same — we're kindred spirits). She is a beautiful turner, but I need more than that! She could have had so much with her face in this dance, and she just didn't do it.
Image: Mike Yarish/Fox
Last Dance for Love ... or Something Like That
Alright Jessica — you have one last shot to win me over in the August 27 episode! But I do love my homeboys Ricky and tapper Zack Everhart, and Valerie Rockey has proven to be a fan favorite, so it will be tough to catch up to them. If she emotes more and let's loose, it could go a long way though.
Image: Brooklin Rosenstock/FOX